India
>PONDICHERRY
PONDICHERRY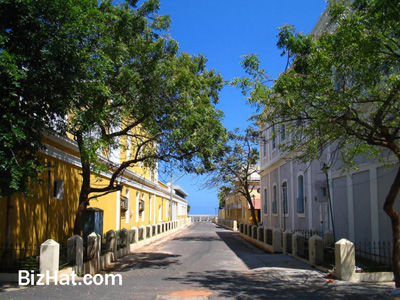 Capital : Pondicherry.
Area : 492 sq.km.
Literacy : 81.6%.
Languages : Tamil, French, Malayalam, Telugu.
Districts : 4, Karaikal (Tamil nadu), Mahe (Kerala), Pondicherry (Tamil Nadu), Yanam (Andhra Pradesh).
Though nothing can really prepare you for the unusual and somewhat outlandish jumble that is Pondicherry, one has to aver that the East Coast Highway that connects Pondicherry to busy Chennai, is a nice 'unwinding do'. The superb highway stretches along the Coromandel Coast and takes you through the suburban chic farmhouses of Chennai's elite – built way too close to the coast to pay much heed to 'silly little creatures' like the olive Ridley turtle. The road then goes through the pretty touristy town of Mamallapuram, with its line of 'solely for the white backpacker' Kashmiri 'emporiums', lined with kurtas (long-sleeved Indian shirt) and T-shirts printed with the omnipresent, psychedelic 'Om', that one has yet to see across the chest of an average god-fearing Indian. Then through cashew nut groves and tiny villages that skirt paddy fields and coconut trees, you travel along salt-processing fields to gradually meet Pondicherry. The familiar unsavoury smells of a typical Indian bus stand, and Pondicherry being no exception, will jolt you out of your bus and bundle you into an auto-rikshaw in no time – unless of course you decide to assert your right, ignore the cheesy 'bonjour madame/ monsieur', refer to your handy guidebook and wrangle for the right price…
History
Anyway, on to more pleasant things and some good old-fashioned information – Pondicherry was occupied by the French in 1674. Apart from a brief period of dominion by the Dutch from 1693 to 1699, and later in 1761 by the British, the region remained under French rule till as late as 1954, after which the area became a part of the Indian Union.
The town still retains a distinctive French flavour with its red bonnet police force and the sprinkling of some beautiful colonial buildings. Pondicherry has a French Conciliate, a French Research Institute and a French Lycée or school, all of which are run by the French government. Pondicherry University also has some exchange programmes with a number of universities in France, the University of Rennes being one of them. Hence Pondicherry has a certain French population along with a sizeable number of Franco-Pondicherrians who had fought for the French during the World Wars.
Cultural Life
Pondicherry's cultural life is inversely proportionate to its size. The town is abuzz with concerts, films and the welcome madness of psychedelia trance with a fair share of herbs thrown in.
It is almost impossible to capture the essence of Pondicherry in one-liner nutshells. It could be the fisherfolk who get their uncensored version of Baywatch on Auro Beach as they see a deluge of bikini-clad bodies and still go back home sozzled to the bone, and like their ancestors, claim their conjugal rights of sex and wife beating. Or, the bearded Dominque Baba with his little house built on stilts overlooking a coconut garden with a Shivalinga (Shiva's symbolic phallus) and the sea, where he dances all day long in blissful isolation.
It could well be the heady amalgam of a large student population, as Pondicherry has one of the best schools of medicine in the country – Jipmer, and the Pondicherry University is known to be the place where computer geeks, management nerds and budding ecologists and travellers throw in their lot. Maybe it's the gossipy, hoity-toity and opulent French society, part of which lives in sprawling grand villas, or their happy-go-lucky party-hopping other half, 'stirred and shaken' with a constant influx of travellers, rastafarians, musicians and half-baked philosophers that make Pondicherry the heady blend that it is.
Curiously, Pondicherry is a town of extremes with loads of shiny happy people and cheap booze, the highest per capita income and the highest suicide rate in the country! Befittingly there seems little method in the madness that is Pondicherry.
The People
Pondicherry cathedral The community has well over a 1000 inhabitants, two thirds of whom are foreigners. They are a self-contained community and their settlements are spread across 20 acres of land. Their work, especially in the area of alternative development, architecture, agriculture and tree planting, is without doubt praiseworthy. They also create an impressive range of handicrafts that can be seen at the boutique in the Visitors Centre. Do glance through their fine range of postcards on India.
A certain digression from the key philosophy of Auroville seems to be palpable, especially with the second generation Aurovillians stung with a certain sense of restless bohemia. Ironically, most of the manual labour in Auroville is assured by the Tamilian villagers living around these settlements. Undoubtedly, the Mother's death in 1973 has left a spiritual and directional lacuna which is yet to be filled, and Auroville very much remains what it started out as – an experiment. It would be interesting to see where it goes from here. One must stress upon the fact that Auroville is not a tourist spot, but if you are genuinely interested in knowing more about it then take a travel trip to Auroville and spend stay for few more days, you will not be discouraged by your decision.
French Influence
Auro BeachThe little town of Pondicherry has so much more than the slightly overrated French influence, the Aurobindo Ashram and the pleasant promenade, that it might surprise you. There is no point in even trying to describe what this little 32sq km town is all about. Maybe it's the bizarre ethnic mix of people from across the world coupled with a large Tamilian population. Its typical, covered South Indian markets with colourful wizened old women poring over baskets of snaking jasmine strands, and the rows of folks selling coconut, banana, tapioca and ribbons – all adding their own sing-song marketing strategy to the ever-present din. Maybe it's the unfathomable canvas of a myriad communities that have remained insular at a certain level of existence. The black and white burkha (a veil) clad Muslim women with their hardworking menfolk, who still make a living out of their artistic genes, supply Pondicherry with woodwork that varies from carved furniture to obscure sculptures, to chilams (a hollow tapering object, made of clay, wood or stone, used for smoking).
Attractions of the place
Pondicherry Beaches