World
>
India
>
Rajasthan
> Jaipur
Jaipur
The capital of Rajasthan is around 258 km from Delhi and 232 km from Agra. The great warrior king Sawai Jai Singh II (1693-1743) laid the foundation of the city in 1627. He was one of the few kings of his time who had a scientific temper and was concerned about the welfare of his citizens. The city was well planned and had one of the best drinking water systems in the medieval world. Amer Fort, the Hawa Mahal and the royal observatory or Jantar Mantar are places worth visiting in Jaipur. The Gangaur and Teej festivals are colourfully celebrated in this city. Jaipur is also known for the fine handicraft, jewellery and textiles produced by skilled traditional craftsmen.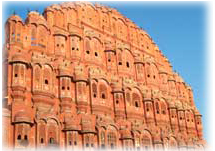 Jaipur is also known as the Pink City. Jaipur's date with the pink color goes back to 1905-06, when Jaipur city was getting ready to welcome the Prince of Wales and needed a fresh coat of paint. But the contractor's inability to provide any other color except the pink saw Jaipur washed in pink hue. Since then Jaipur is known as the Pink City.
City Palace is a thriving tourist destination, which attracts a number of tourists every year. Forts and palaces are what attract most tourists to Jaipur. There are a number of forts and palaces in and around Jaipur that tell the tales of Jaipur's rich and vibrant heritage. Some of the important landmarks in and around Jaipur include the Amber Fort, Hawa Mahal, Jantar Mantar observatory, Jaigarh Fort, Gaitor and Nahargarh Fort.
Climate
The capital of the desert state of Rajasthan, Jaipur has hot and scorching summers and cool winters, which are pleasanter. The mercury rises to as high as 45 °C in summers, when the minimum temperature is 25.8 °C. For those who are not used to the glaring sun, visiting Jaipur in winters is a better option, when the maximum temperature restricts itself to about 22 °C. However, nights can be cold and temperature can be as low as 8.3 °C. Monsoons are not much of a problem in Jaipur, so one can visit the city from anytime between September to March.
Monuments
Temples
How To Reach
Airways : Sangner airport, 30 minutes drive to major hotels.
Railways : Well connected to all the major cities in India. Shatabi Express is the ideal train from Delhi.
Roadways : RTDC (Rajasthan Tourism Development Corporation) buses connects Jaipur to major cities like Delhi, Agra and within Rajasthan.