India
> Goa
GOA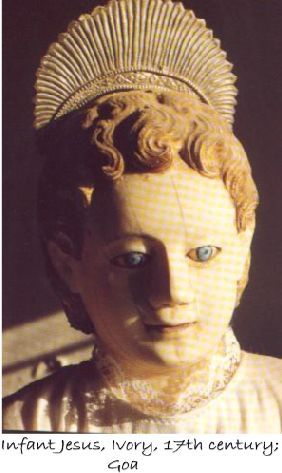 This is a small Portuguese enclave with India's most dazzling tourist
mosaics. It is also called "THE PEARL OF EAST". Its name is derived from the word "GOYAN" which means the patch of tall grass. It is associated with old Portuguese architecture with distinct flavor of lifestyle. It is full of beaches pristine beauty of seascape, its mystical hills, the rhythmic pounding of sea, its swaying palms-all make it a fairy- tale land of travelers. Goa is where the water-babies thrive. It is the most preferred beach destination in India for many good reasons. Beautiful sandy beaches, a delightful laissez faire attitude, quaint homes and old churches in the Portuguese tradition (Goa was a Portuguese colony for 450 years), lovely country sides, abundant seafood, plenty of accommodation in all categories. By air Goa is well connected with Delhi, Mumbai, Bangalore, Madras & Cochin.
Anjuna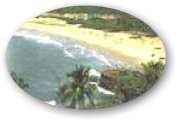 Anjuna attracts a weird and wonderful collection of over Landers, monks, defiant ex-hippies, gentle lunatics, artists, artisans, seers, searchers, sybarites and itinerant expatriates who normally wouldn't be seen out of the organic confines of their health-food emporia in San Francisco or London. It's famous throughout Goa for its Wednesday flea market, and has retained an undeniable, if somewhat shabby, charm. This is a good place to stick around for a while, make some friends and engage in mellow contemplation while the sun goes down. Full moon, when the infamous parties take place, is a particularly good time to be here if you want to indulge in bacchanalian delights. Only a Brit would think about raving about the main beach, but it's worth the walk to the small, protected sliver of sand at South Anjuna where the area's long-term house-renters tend to gather.
Getting There
Buses from Mapusa and Panjim drop passengers at various points along the tarmac road across the top of the village.
Places to Stay
Grandpa's Inn, Manali, Palmasol Guest House, Poonam and White Negto.
Arambol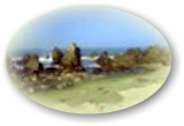 Some years ago, when the screws were tightened at Anjuna in an attempt to control what local people regarded as the more outrageous activities (nudism and drug use) of a certain section of the travelling community, the die-hards cast around for a more sympathetic' beach. Arambol, north of Chapora, was one of those which they choose. Initially, only those willing to put up with very primitive conditions came here. Things are a little more comfortable these days, but development has, so far, been minimal.
The village remains tranquil and friendly - just a few hundred locals, mostly fishing people, and a couple of hundred Western residents in the November to February high season. The coastline lacks the palm-fringed exotic cliches of the southern Goa beaches but it has plenty of character and is pretty in its own kind of way. The main beach has adequate bodysurfing and there are several attractive bays a short walk to the north. Beyond an idyllic, rocky-bottomed cove, the trail emerges to a board strip of soft white sand hemmed in on both sides by steep cliffs. Behind it, a small freshwater lake extends along the bottom of the valley into a thick jungle.
Fed by boiling hot springs, the lake is lined with sulphurous mud, which, smeared over the body, dries to form a surreal, butter-coloured shell. The resident hippies swear it's good for you and spend much of the day tiptoeing naked around the shallow like refugees from some obscure tribal initiation ceremony - much to the amusement of Arambol's Indian visitors.
Getting There
Buses to and from Panjim (via Mapusa) pull into Arambol every half hour until noon, and every ninety minutes thereafter.
Bogmalo
Immediately south of the airport, the Mormugao peninsula's sun-parched central plateau tumbles to a flat-bottomed valley lined with coconut trees and red-brick huts. The sandy beach at the end of the cove is even more picturesque. Bogmalo was just another small fishing village, hemmed in by a pair of plate with a tiny whitewashed chapel. Pricey café-bars have crept up the beach, while the clearing below the hotel is prowled by assiduous Kashmiri handicraft vendors. The beach is clean and not too crowded, the water reasonably safe for swimming, and there are plenty of places to eat, drink and shop at Bogmalo.
Getting There
Bogmalo can be reached by bus or taxi from Vasco da Gama, 8km northwest. It's also near enough to the airport for a last-minute dip before catching a plane.
Places to Stay
Oberoi Bogmalo Beach, O Mar Beach Resort, Joet's.
Calangute & Baga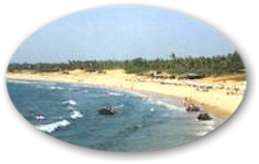 Seemingly not all that long ago, Calangute was the beach all self-respecting hippies headed for, especially around Christmas when psychedelic hell broke loose. If you enjoyed taking part in those mass pujas, with their endless half-baked discussions about `when the revolution comes' and `the vibes, maaan', then this was just the ticket. You could frolic around without a stitch on, be ever so cool and liberated, get totally out of your head on every conceivable variety of ganja from Timor to Tenochtitlan and completely disregard the feelings of the local inhabitants. Naturally, John Lennon or The Who were always about to turn up and give a free concert.
Calangute's heyday as the Mecca of all expatriate hippies has passed. The local people, who used to rent out rooms in their houses for a pittance, have moved on to more profitable things, and Calangute has undergone a metamorphosis to become the centre of Goa's rapidly expanding package-tourist market. It isn't one of the best Goanese beaches: there are hardly any palms, the sand is contaminated with red soil and the beach drops rapidly into the sea. There is, however, plenty going on, especially if you don't mind playing a minor role in this stage-managed parody of what travelling is meant to be about. Try heading off the beaten track unless you need a bit of R 'n' R to recover from life on the road, or want to mix it with the Simons and Sandras of this world who are visiting India to pep up their winter suntans.
Baga, 10 km west of Mapusa, is basically an extension of Calangute; not even the locals agree where one ends and the other begins. Lying in the lee of a rocky, wooded headland, the only difference is that the scenery here is marginally more varied and picturesque.
Getting There
Buses from Mapusa and Panjim pull in at the small bus stand-cum-market square in the centre of Calangute. Some continue to Baga, stopping at the crossroads behind the beach en route.
Colva
A hot-season retreat for Margao's moneyed middle classes since long before Independence, Colva is the oldest and largest - of south Goa's resorts. Its leafy outlying vaddos, or wards, are pleasant enough, dotted with colonial lection of concrete hotels, souvenir stalls and fly-blown snack bars strewn around a bleak central roundabout. Colva is pleasant and convenient place to stay, swimming is relatively safe, while the sand, at least away from the beachfront, is spotless and scattered with beautiful shells.
Getting There
Buses leave Margao every thirty minutes for Colva, dropping passengers at the main beachfront, and at various points along the main road.
Places to Stay
Garden Cottages, Colmar, Silver Sands, William's, Sukhsagar, La Ben, Ronnie's.
Miramar & Dona Paula
West of Panjim, the coast road passes through the swish suburb of Campal, with its grand colonial residences, before swinging south towards the beach at Miramar. Were this anywhere but Goa, you might be tempted to spend an afternoon here, enjoying the two-kilometer, sweep of dark sand and the views across Aguada Bay.
The same is true of nearby Dona Paula, 9 km west of Panjim. Nestled on the south side of the rocky, hammer-shaped headland that divides the Zuari and Mandovi estuaries, this former fishing village is nowadays a commercialized resort.
Getting There
Buses to Miramar & Dona Paula leave every fifteen minutes from Panjim's Kadamba stand. You can also pick them up from the steamer jetty, and at various points along the waterfront.
Places to Stay
GTDC's Yatri Niwas, Youth Hostel and many resort complexes.
Palolem
2 km west of Chaudi, pops up more often in glossy holiday brochures than any other beach in Goa; not because the village is a major package tour destination, but because its crescent-shaped bay, lined with a swaying curtain of coconut palms, is irresistibly photogenic. Hemmed in by a pair of wooded headlands, a perfect curve of white sand arcs north from a pile of huge boulders to the spur of Sahyadri Ghat, which here tapers into the sea.
Over the past three three or four years, however, increasing numbers of budget travellers have begun to pour in, and the village is now far from the undiscovered idyll it used to be, with a string of cafes, Karnatakan hawkers and a tent camp crowding the beach front. Souvenir stalls have also sprung up, catering mainly for the mini-van and boat parties of charter tourists on day-trips from resorts further north.
Getting There
Buses run between Margao and Karwar (in karnataka) via Chaudi every 30 minutes where you can pick up an auto-rickshaw or taxi to Palolem.
Places to Stay
Palolem Beach Resort, Tonrick's.
Chapora & Vagator
This is one of the most interesting parts of Goa's coastline, and a good deal more attractive than Anjuna for either a short or a long stay. Much of the inhabited area nestles under a canopy of dense coconut palms, and Chapora village is more reminiscent of a charmingly unruly farmyard than a fishing community doubling as a beach resort. The village is dominated by a rocky hill topped by the remains of a fairly well-preserved Portuguese fort and the estuary of the Chapora river. There are sandy coves, pleasant beaches and rocky cliffs at nearby Vagator. Be prepared for Indian coach tourists coming to ogle sunbathing Westerners, and expect any police you encounter to regard you with some suspicion and shake you down for drugs if you mistakenly tell them you're staying at Chapora.
Getting There
Direct buses arrive at Chapora three times daily from Panjim, and every fifteen minutes from Mapusa.