India
> Maharashtra
Maharashtra
Capital : Mumbai.
Area : 3, 07, 713 sq.km.
Literacy : 77.9%.
Languages : Marathi, Gujrathi, Hindi.
Roads : 3, 59, 262 km.
Railways : 5, 554 km.
Airports : Aurangabad, Mumbai, Nagpur, Pune, Akola, Kolhapur, Nanded, Ratnagiri, Solapur.
When to visit : Sept to Mar.
Climate(in °C) : Summer 39 to 22 Winter 34 to 12.
Districts : 35, Ahmadnagar, Akola, Amravati, Aurangabad, Bhandara, Beed, Buldana, Chandrapur, Dhule, Gadchiroli, Gondiya, Hingoli, Jalgaon, Jalna, Kolhapur, Latur, Mumbai , Mumbai Suburban, Nagpur, Nanded, Nandurbar, Nashik, Osmanabad, Parbhani, Pune, Raigarh, Ratnagiri, Sangli, Satara, Sindhudurg, Solapur, Thane, Wardha, Washim, Yavatmal.
Places of Tourist importance : Mumbai, Lonavla, Mahabaleshwar, Ajanta - Ellora caves.
Photo Gallery
Nashik
Nashik has a personality of its own, due to its mythological, historical, social and cultural importance. The city is situated on the banks of the Godavari River, making it one of the holiest places for Hindus all over the world. Nashik has a rich historical past, as the mythology has it that Lord Rama, the King of Ayodhya, made Nashik his adobe during his 14 years in exile.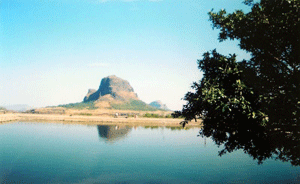 At the same place Lord Laxman, by the wish of Lord Rama, cut the nose of "Shurpnakha" and thus this city was named as "Nasik".
Nashik is one of the most important cities of Northern Maharashtra. Nashik, in Maharashtra, is situated at a distance of 200 km from Mumbai (Bombay) as well as Pune. The city has become the center of attraction because of its beautiful surroundings and cool and pleasant climate. Nashik has a personality of its own due to its mythological, historical, social and cultural importance. The city, vibrant and active on the industrial, political, social and cultural fronts, has influenced the lives of many a great personalities. The river Godavari flows through the city. Temples and ghats on the banks of Godavari have made Nashik one of the holiest places for Hindus all over the World.
Nashik Metronext
A city's success story by and large involves a dynamic exercise not only on part of a government but also on part of private players, which evaluate its potential and then go for an outright investment. As far as Nashik is concerned, it has faired well on both these counts. On one hand, the initiatives of the people's representatives and the government have started bearing fruits in the form of hectic activities for infrastructural upgradation and industrial enhancement, while on the other private players have zeroed in on the city to set up their projects here, knowing that any investment now would fetch huge returns soon. Already going through unbelievable since the past few years with many multinationals setting up their offices here, Nashikites changing lifestyle has started reflecting in the booming housing, retail and entertainment industry. The rising number of spas and gyms, burger joints and coffee shops, and multiplexes all smack off the metro culture fast penetrating into the city. Thus, to cope with this dynamic change, the main task ahead of the construction industry is to provide the residents with home that would match their taste and status.
"This is the need of the time. Business and employment opportunities are increasing. Hence, young professionals are coming to Nashik in large numbers and they will multiply manifold in the near future. A number of new engineering, pharmacy and management colleges are coming to Nashik, so the added influx of students. Hence the builders here have to deliver according to the changing demands", informs Arvind Patel of Madhoor Buildwell. However when one comes across the cheerful modern design concepts of residential or commercial complexes dotting the expanse of the city, there is no ambiguity that the builders' fraternity has managed to overcome this challenge and has changed the entire face of the city.
As a result, today Nashik is rated as the most attractive tier111 city in Maharashrta, while it stands only third at the national level. The ever-growing industrial and educational scenario here, good connectivity climatic conditions, the upcoming Special Economic Zone(SEZ)at Sinnar,25km from Nashik, pilgrimage centres like Shirdi, Tribamkeshwar and Vani in its vicinity and the proximity to Mumbai and Pune, also have served this cause. And there is no type of building about this.A recent survey conducted by ICICI property services and published in a national daily, clearly indicated Nashik being the most attractive tier111 cities in the state, while it was ranked only third at the national level, just behind Ahmedabad and Vizag. The parameters taken in to account, while rating the city included manpower accessability, reality outlay, new supply, cost of living, manpower overheads, infrastructure and most importantly social security.
IT and Retail; Getting better and better
The presence of IT and retail has become the most important requisites for the progress of any city and Nashik has the city's first state-of-the-art IT park admeasuring nearly 7.5 lakhs sq.ft. in place in the form of V-tech. However two more IT parks admeasuring 20 lakh sq.ft. are being developed in collaboration with reputed developers from Mumbai and Pune.
Speak about the retail scenario and apart from the malls and multiplexes that have mushroomed all across the city, another 8lakh sq.ft.mall in the form of Nashik City Centre is under construction. Pinnacle-a two lakh sq.ft mall has also been leased by Central, a Future Group retail format, while Nashik Road's biggest multi-brand malls G-Mail And Urban Space are under construction. The RPG Group has also signed one hyper and seven super in Nashik, according to reports.
Nashik blooming industrial scenario
Coming a long way from being known as a pilgrim town, to a grape city, pensioners paradise and wine capital, Nashik is also the most attractive tier 111 city of the state investment wise, informs Tushar Sanklecha of Sanklecha construction. India Bulls ltd is developing 2'500 hectares special economic zone at Sinnar, while there are reports that Mahindras are setting up their new automobile plant at an investment of 500 crore. Hero Honda too has finalised125 acres at Sinnar SEZ for setting up a manufacturing unit and two steel plants are also on the anvil at Sinnar SEZ, reports say. Again Tata Infrastructure has signed nearly 980 acres at Sinnar SEZ, while a leading developer has announced to start a logistic park on an area admeasuring nearly 100acres, according to reports.
Further to provide Students and professionals with an opportunity to make career s in the field of aviation and to meet the requirements of the booming aviation activity across India, Hindustan Aeronautics Ltd (HAL), Pravara Rural Education Society, and Algonquin College of Applied Arts and technology,Canada have jointly come up with the HAL-Pravara Aviation Institute at HAL,Nashik premises.
And now after the commencement of the Cargo hub at HAL, Club One Air is also planning is to start private jet on call,while Nashik is also on the list of Gurgaon-based MDLR Airlines which has planned to expand into more regional cities, informed Anant Rajegaonkar, past president of Promoters and Builders Association,Nashik.
Bigger Housing projects on the Anvil
According to reports, Hiranandani has acquired approximately160acreson Nashik Pune Hoghway,just8 km from the Nashik Road Railway Stationfor launching its township.Piramal Group, another renowned name in the field of housing industry meanwhile has acquired 108acres for their proposed residential township,reports suggests.
Meanwhile, at the sametime, the city is looked upon as the destination next for further sscope in the hospitality,healthcare and aviation industries.Chosen under the Centre's Jawaharlal Nehru national Urban Renewal Mission(JNNURM) to meet the infrastructural needs arising out of the rapid growth,Nashik would get awhopping Rs 3,592 to be spent on things like water supply, underground drainage, solid waste management,stom water drainage,housing fothe urban poor; traffic and transportation and other such works, considering the growth of the city by the next 25 years.
Among the other things, catching the attention of one and all are the night landing facility available at HAL, parking for planes at a rate of as low as Rs 50, the benefit Nashik would get from the proposed Gujarat -Mumbai Gas Pipeline and of course, the huge scope of further development for residential complexes given the fact that out of the total 265 sq km area of the Nashik Municipal Corporation, currently only 27 per cent has been covered.
Taking note of this, top-of-the-line builders are penetrating into Nashik. Sunil Bhaybang of Sumanchandra Groups says "Why only builders, the city has something for everyone. The climatic conditions, the culture, less pollution, attractive property rates and well connectivity, all are responsible for this rising attention on this city, while the best is yet to come."
Best of Both the Worids
Just a minute at home is worth all the hectic hours at work. Bindu Land Developers & Builders, at Vini Park understand this well.
Spread across 10 acres of lush greendale of 2000 exquisite trees, manicured gardens and trails encompassing a state-of-the-art swimming pool and club house, Vini Park is just three and a half hours drive from Mumbai. Encompassing bungalows, twin bungalows, row houses and a club house, this project is situated at Deolali Camp, Nashik.
The plush Row Houses that spell Quality offer privacy and comfort. Usage of natural material in an ecological and environmental sensitive design too exudes warmth to the end user. Those fortunate to live in Vini Park in fact have the world at their doorstep, since they not only live in magnificently built houses but also enjoy life to the fullest, be it the luxurious 5-star ambience of the adjoining club or the stimulating company of the warm and welcoming atmosphere. Everything at Vini Park makes you feel instantly at home.
In the Spirit of Times
Founded in 1978 as a family conglomerate, Sanklecha's entered the real estate business with a solitary project. Since then the firm has moved from strength to strength over the years. With a span of three decades, the Group has undertaken more than 75 prestigious projects encompassing a built-up area of approximately 25 lakh sq.ft spread across Nashik. Sanklecha's spirit of innovation has spread across the entire gamut of creations, be it community living, concept homes or contemporary urban space. Some of its innumerable firsts include the concept of flexi flats, parity homes, entertainment spaces, shopping malls, IT parks. Their tireless tryst with trending and innovation has helped the Group remain in the Spirit of Times and with that very ethos they strive to stay ahead of times.
Other Specialties