India
>
Wildlife
> West Zone
India Wildlife
WEST ZONE : Gujrat, Madya Pradesh, Maharashtra
Gir National Park, Gujarat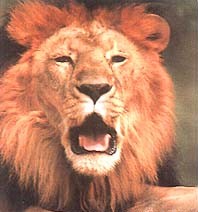 This wildlife park is special as it serves as a reserve forest for preserving the Asiatic lion. The Asiatic lion is smaller in size as compared to the species found in the African regions. This wildlife sanctuary came into existence in the year 1913 and become a National Park in 1965. The Gir National Park stretches over an area of 1,412 sq km of scrub forests and grasslands. Parts of this wildlife national park are covered with dry deciduous forest and swamps. Obtain entry permits from the Sinh Sadan Forest Lodge Office. The ideal time for watching wildlife is the early hours of dawn and dusk.
Wildlife : Asiatic lion (300 in number), leopards (210 in number), chital, gazelle, nilgai, wild ass, spotted deer, four-horned antelope, hyenas, jackals and crocodiles.
The forest is rich in bird life and the paradise fly catcher, black headed cuckoo shrike, pied woodpecker, Bonelli's eagle, crested serpent eagle, painted sand grouse, bush quail and grey partridge.
Three unusual reserves, the Nalsarover lake and sanctuary, where large numbers of water birds can be seen; the bare saline flats of the Rann of Kutch, incredibly the home of the Indian wild ass and the spectacular Flamingo island where nesting colonies of flamingoes are to be seen.
How to Reach : Nearest Rail head is Veraval (40 km from Gir)/Junagadh.
Kanha National Park, Madhya Pradesh
This tiger reserve has 1945 sq km area with extensive grasslands, dense bamboo thickets and Sal forests with a number of rivers and streams flowing through it.
Wildlife : Porcupines, sloth bear, jackals, jungle cat, wild dogs, bison, tiger, gaur, mouse deer, barasingha and other animals.

Birds found are crimson-breasted barbet, golden oriole, racquet tailed drongo and a stunning variety of other birds.
How to Reach : Jabalpur (Railhead)
Best Season : November to January.
Shivpuri National Park, Madhya Pradesh
The Shivpuri national park (established in 1958) comprises of hills and valleys of the central Indian hill ranges or the Vindhyas. The vegetation at the Shivpuri national park consists of dry deciduous forests of teak, sal and khair wood besides stretches of rolling grasslands.
As tigers are bred in captivity in the buffer zone of the park, it gives a great photo opportunity to the wildlife enthusiasts. A jeep safari or a boating trip on the Candpatha man made lake can give a glimpse of the Park's wildlife.
Wildlife : Striped hyenas, leopards, chitals, jackals, nilgais, four-horned antelopes, jungle cats, wild boars, gazelle, sambhars, sloth bears, crocodiles and langurs. Common birds are spoonbills, bar-headed geese, demoiselle cranes, ducks, painted storks, cormorants, white ibises, purple sunbirds, golden orioles falcons and paradise flycatchers.
Bandhavgarh National Park in Sahdol, Madhya Pradesh