India
>
Temples
> Tirupati
Tirupati

Tirumala-Tirupati, the richest of temples in the country, is the most venerated Vaishnavite shrine of Lord Venkateswara. It was patronised by the Pallavas, the Cholas, the Pandyas and the Vijayanagar kings. 130 km from the Chennai, this temple is located in the southern Chittoor district of Andhra Pradesh. Tiru' in Tamil means `Sri'. Hence Tirupati translates to Sripati or Sri Maha Vishnu.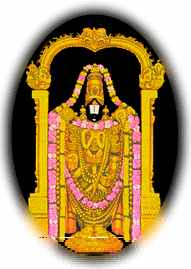 This old anthill is the place where dreams come true. Atop a slope in the Mount Seshachalam range in the Eastern Ghats of India, Vishnu sat to meditate one day. He had left home because of a quarrel with his wife, Lakshmi. All he wanted was to be alone for a bit. So he closed his eyes and went into a deep trance.
The rain fell yet he did not move. The wind blew but it did not disturb him. Days, months, years went by. The animals of the forest began to think that Vishnu was just another rock on the hillside. Ants began to crawl all over him. Soon the god could not be seen. The busy ants scurrying to build a home for themselves before winter had buried him in the mud.
Vishnu meditated on until the day, a cow paid homage to him. As an amazed young cowherd watched, his cow walked straight up to the until and showered it with her milk. The boy told of the strange happening to his king, who, curious to discover the reason for the cow's behavior, had the hill dug up. Underneath he found Vishnu, literally turned to stone.
Ever since that day, the god has been worshiped there at what is now one of the richest and most commercialized shrines in India. Tirupati - the meditating ground of Vishnu - is one of the 108 important Vaishnavite shrines across India; others include Tanjore, Kumbakonam and Madhurai.
According to another legend, the Venkatadri hills of Tirupati represent the serpent, Naga or Adisesha, the vehicle of Vishnu, on whom he also rests. In a third tale, the hills are said to be a part of the holy Himalayan mountain, Meru. One day the god of the wind, Vayu, blew a mighty gust at Meru, scattering some of his peaks to the south-eastern part of the country where they formed the Eastern Ghats.
In the past, the five Pandawas came to these mountains, staying a year at what is now called Pandava Shringha, 'the place adorned by the Pandavas'. Rama is believed to have worshipped Vishnu here too. Today, thousands of devotees flock daily to the god's hilly abode to request that their dearest wish be fulfilled. In return, they offer up their hair at the shrine that was supposedly built by the Chola dynasty over the seven peaks of Venkatadri. In the foothills is a small altar dedicated to Govindaraja Perumal. Beyond this is a tower built in honor of the wind, the Gali Gopura.