World
>
India
>
Hill Stations
>
Himachal Pradesh
> Simla
SHIMLA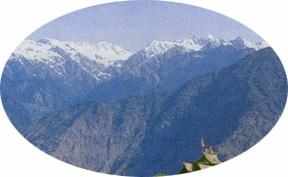 Shimla, the capital of Himachal Pradesh and former summer capital of British India, is state's most important centre. Bulging at its seams with unprecendented expansion, Shimla retains a colonial aura, with its grand old colonial buildings.
Shimla is connected by air from Delhi, Chandigarh & Kullu. Nearest broad gauge railway station is Kalka connected by narrow gauge train to Shimla. This train, a relic of British times passes through 107 tunnels in it's 97 km long journey. Shimla is 110 km from Chandigarh and 373 km from Delhi by road.
PLACES OF INTEREST
The Mall : All visitors to Shimla inevitably walk down the Mall, the main promenade that runs along the top of the ridge - a busy shopping area with old colonial buildings, souvenir shops and restaurants. At the top end of the Mall is Scandal Point, a large open square with a view of the town - a favorite rendezvous for visitors and the local people. Overlooking it is the elegant Christ Church with its fine stained glass windows. The labyrinth of Shimla's bazaars spill over the edge of the Mall.
Viceregal Lodge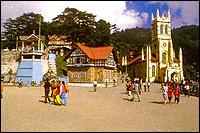 Housed in the Gothic splendor of the Viceregal Lodge is the Indian Institute of Advanced studies, India's premier academy for higher research.
Himachal State Museum : Very close to the Institute, in a colonial building set in spacious lawns, is the museum. It has collections of Pahari miniatures, stone sculpture, local handicrafts, textiles and embroidery.
Jakhoo Hill : The steep climb to Jakhoo Hill, Shimla's highest point, is rewarding for superb views of the town and its surroundings. At the top is an old Hanuman temple (2 km).
Annandale : The open grounds at Annandale, below the ridge, was a favorite location in the days of the Raj - the venue of picnics, cricket, polo matches and gymkhana (2.4 km).
The Glen : A pretty picnic spot beyond Annandale is located in the thickly wooded Glen, beside a sparkling stream (4 km).
Summer Hill : The quiet and lovely suburb of Summer Hill has secluded, shady walks and charming views. It was here that Gandhiji stayed on his visits to Shimla, in the elegant Gerogian mansion that belonged to Rajkumari Amrit Kaur. Summer Hill is located on the Shimla-Kalka railway line (5 km).
Chadwick Falls :
Just beyond Summer Hill is the 67 m waterfall, cascading into a deep gorge. The Falls are best seen after the monsoon (7 km).
Prospect Hill : A 15 minute climb from Boileauganj, Prospect Hill is another favorite walk and vantage point with breathtaking views. There is little temple to Kamna Devi on the top of the hill (5 km).
Sanjauli : A serene location with delightful walks, Sanjauli is ideal for a tranquil weekend. There are fine vistas and the lights of Shimla and Chail can be seen twinkling at night. On the other side, Mashobra and Naldehra are visible (3 km).
Chail :The idyllic resort, set amidst scented forests of pine and deodar, was once the summer resort of the maharajas of Patiala. Located on a wooded spur, Chail overlooks the Sutlej Valley. Shimla and Kasauli are also visible and at night their twinkling lights seem part of the starlit sky.
The palace of the maharajas, built in the late 19th century and the pretty cottages of the complex - that once accommodated the ADCs and guests of the royal party - are now part of a charming holiday resort. Chail has lovely walks and trails that meander through the dense pine forests - the home of barking deer, wild boar, pheasant and a variety of birds. Forest rest houses make overnight halts possible. For those interested in sports, Chail has fine tennis and squash courts and a putting green. There are excellent spots along the river Gaura with opportunities for anglers to tangle with the Himalayan mahaseer. Chail has also the highest cricket ground in the world - 2250 m above sea level.
Mashobra (9.6 km) : Noted for its apple orchards and thick woods of oak and pine, Mashobra is a sylvan retreat with pretty walks and picnic spots. A little track leads down to Sipur a grassy glade with a stream wandering thorough it. Excursions are possible to Shali Peak - the highest point in the area or to Craignano (3 km) with its elegant guest house set in a delightful flower filled garden.
Kufri (16 km) : Kufri is a noted summer and winter resort with its glorious views of forested slopes and tall ranges iced in a covering of perpetual snow. A fine ski-resort, Kufri has a winter season that extends from January to March. A sparkling winter sports festival is held each year in February.
Fagu : Just 6 km from Kufri, Fagu is a vantage point with panoramic views of the ranges and valleys. Picturesquely located amid forests and orchards, Fagu has a rest house and tourist bungalow overlooking the Giri Valley.
Naldehara (23 km) : The scenic, nine hole golf course with its springy turf and crown of deodar was laid out at the instance of the Viceroy, Lord Curzon. So enamoured was he by the beauty of the spot, that he named his youngest daughter Alexandra Naldera.
Tattapani (51 km) : Tattapani is just 28 Km from Naldehra, along a road winding through the scenic countryside. The hot sulphur springs here, are noted for their invigorating and curative powers.
Narkanda (64 km) : A hill road with superb views links Narkanda with Shimla. Narkanda, located amidst fragrant pine forests is a ski resort in winter. It has a choice of slopes ranging from a beginners run and a slalom slope, to sharper descents for the experienced skier.
SHOPPING
There is an enormous range of goods that Shimla has to offer. This includes handicrafts, wood and metalwork, shawls, pullovers, local tweeds, caps, Tibetan carpets, pickles, jams and squashes.
TRAVEL ESSENTIALS
Temperature:Between sub zero in winter and 30 °C in summer.
Best season:Throughout the year. Snowfall in winter.
Std Code:0177
Transport
Linked by air to Delhi, Chandigarh, Kangra and Kullu. The airport at Jubbarhati is 23 km from Shimla. Shimla is linked by a narrow gauge line to Kalka which is connected to Delhi, Kolkata and Amritsar by broad gauge. Kalka-Shimla is 96 km and 6 hour by train but only 4 hour by a quaint rail car. Shimla is well connected by road to most towns within the state and to all major towns in Punjab and Haryana. It is linked by bus and coach to Delhi and Chandigarh as well.
Road Distances
| | |
| --- | --- |
| Place | km |
| Delhi | 370 |
| Chandigarh | 117 |
| Kalka | 90 |
| Ambala | 166 |
| Narkanda | 56 |
| Mandi | 156 |
| Manali | 280 |
| Dharamsala | 280 |
TOURIST OFFICE
H.P.T.D.C. Ltd, Marketing Office, The Mall, Shimla-171 001. Tel: (0177) 252561, 258302. Fax: (0177) 252557.
H.P.T.D.C. Ltd, Marketing Office, Chanderlok Building, 36 Janpath, New Delhi-110 001. Tel: 3325320, 3324764 Fax: (011) 3731072.
Himachal Tourism's Tourist Information Office, 36, World Trade Centre, Cuffe Parade, Mumbai-400 005. Tel: (022)2181123.