World
>
India
>
Hill Stations
> Sikkim
Hill stations of Sikkim
Gangtok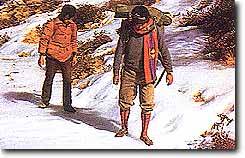 Gangtok the capital of Sikkim is surrounded by the beautiful landscapes. It is also the major center for all the business activities like tourism & industries. It is connected by all the major cities of the country through air & roadways. In the heart of the city there are many beautiful places to visit.
PLACES TO VISIT
Research Institute of Tibetology, Gangtok Rare, Tibetian, Sanskrit and Lapcha manuscripts as well as statues and icons used in Buddhist liturgy are found in the Research Institute of Tibetology. This prestigious institute promotes study of Buddhist religion and philosophy. This one-of-its-kind institute and some other Buddhist studies encourage the spread of Buddhism.
Orchid Sanctuary
Just below the Institute of Tibetology, the orchid sanctuary cultivates a vast range of orchids, including several rare varieties.
Government Institute of Cottage Industries
This institute preserves and encourages the traditional arts and crafts of Sikkim. Started in 1957, the centre offers training to the youth and its products like handwoven carpets, wood and bamboo works are world famous.
Deer Park
The deer park is a very quiet place with herds of deer all around. The in charge of Buddha in a preaching posture (replica of the original in Sarnath) is installed in the park. A beautiful view of the hills and valleys is seen from here.
OTHER NEARBY PLACES
Enchey Monastery
At 3 km from Gangtok, is the Enchey Monastery. The 200 year old monastery has in its premises, images of Gods and Goddesses and religious objects. In December, the monastery is the venue for the annual 'Chaam' or ritual dance of the lamas.
Orchidarium
This garden of exotic orchids and rich tropical plants, 14 km from Gangtok, is also a popular picnic spot.
Tashi View Point
It is situated at 8 km from Gangtok on the north Sikkim highway. Is the Tashi Viewpoint which offers a spectacular view of the snow ranges and distant monasteries of North Sikkim.