World
>
India
>
Museums
> The State Museum, Patna
Museums of Bihar
The State Museum, Patna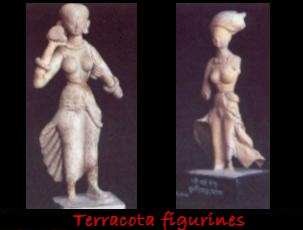 This museum was established in 1971 was moved to its present building in the 1930s. The building is a hybrid of European, Mughal and Rajput architectural styles. The structure is absolutely unsuitable as a museum and lacks adequate ventilation and dust-proofing. The collection of the museum, however, is so outstanding that it is worth a visit, despite the poor display and upkeep.
In this museum there is an excellent collection of stone and terracotta sculpture of the Mauryan and subsequent periods.
On the ground floor are the sculpture galleries. The most important and significant sculpture is the Yakshi from Didarganj. She is a large, buxom woman, more than life-size, carved out of a yellowish standstone which was obtained from the mines of chunar in Bihar. She is an attendant figure, or Chauri bearer (with a fly whisk), carved in the round. The Yakshi wears a fine lower garment, held in place by a belt of many chains. Her huge anklets, bangles and earrings are not unusual in design, and similar jewellery in silver is still worn by women in many parts of India. The kind of fly whisk she holds was traditionally made from the hair from a horse's tail. The glossy sheen of the sculpted surface is quite spectacularly beautiful, a characteristic feature of most Mauryan sculpture. The Didarganj Yakshi is over 2,000 years old, and the lustrous finish of the stone remains soft and shiny even today. This exquisite Yakshi is a well-travelled lady, having been taken to many Indian exhibitions abroad, and it would be a pity if you missed seeing her.
The bronze gallery has many famous examples of early Buddhist figures, the standing Buddha, Bodhisattva and others.
The terracotta collection is very special. The pieces on display were uncovered during excavations at Pataliputra, Kosambi, Gaya and other important centres of the Mauryan and Gupta empires. There are charming baked clay toy animals and figurines of women, couples and deities, all prepared from moulds.
The most characteristics quality of clay is that it is very 'impressionable' and records even the minutest of details. These clay figures were made by hand, modelled with features pinched and patted into shape by the artists' figures. Punched designs for jewellery and ornaments have been worked on to the surface of the soft clay with a design stylus or stick.
State Museum, Buddha Marg, Patna - 800001. Telephone: (0612)230173, 235731
Hours : 10.30 am-4.30 pm except on Mondays and Government holidays.
Suggested viewing time : One hour.
JALAN MUSEUM, Patna
The Jalan museum is constructed at the historical site of Sher Shah's Fort in Patna. The museum has a rich private collection of jade, Chinese porcelain paintings and silver filigree work of the Mughal period.
Gaya Museum
Mainly ancient sculptures in bronze and terracotta are on exhibit. Other sections on numismatics, the decorative arts, paintings, manuscripts, arms and armoury, geology and natural history are frequently visited. Address: Gaya, Bihar 823001. Timings: 10.30 a.m to 4.30 p.m. Closed on Monday and public holidays. Entry: Free.
NALANDA ARCHAEOLOGICAL MUSEUM
The museum has a rich collection of archaeological finds including sculptures, terracotta, bronzes, panels, pillars and other fragments excavates in its vicinity. Tel: (06112 81824, 81831, Fax: (06112) 81831. Timings: 10 a.m to 5 p.m. Closed on Fridays. Entry : Rs 2.