World
>
India
>
Hill Stations
>
Tamil Nadu
> Ooty
OOTY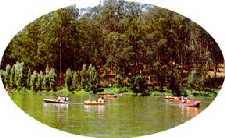 South Indian tea has gained recognition far and wide. India is the fifth largest tea producing belt in the world after China. In 1991, South India exported 50 million kg to over 30 countries. Tea and Tourism festival is celebrated in the Nilgiris Jointly by the Department of Tourism, Government of Tamil Nadu and Ministry of Tourism, Government of Tamil Nadu and Ministry of Tourism, Government of India in every January/February. Cultural programmes, visits to Tea estates and factories, fun and frolic etc., mark this celebrations. Come to Nilgiris, during this festival, when tea lovers from all over the world converge. An occasion not to be missed.
PLACES OF INTEREST
Botanical Garden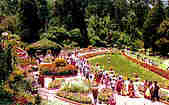 A variety of exotic and ornamental plants adorn this garden which is the venue for the Flower Show held in May every year. There is a fossil tree trunk 20 million years old in the midst of the garden.
Lake
This artificial lake was constructed in 1824 by John Sullivan, the then Collector of Coimbatore. Boating is possible from 08.00 to 18.00 hrs on all days. The lake garden and toy trains rides are other attractions.
Udhagmandalam
This Queen of hill stations, known as Ooty, is in Nilgiri mountain ranges in Tamil Nadu. At a height of 2268 m, Ooty is known for its salubrious climate and scenic beauty.
The nearest airport is Coimbatore (100 km). By rail it is connected by narrow gauge. By road it is 152 km from Mysore, 293 km from Bangalore & 271 km from Kochi.
Government Museum
The Government museum, Mysore road, has items of tribal objects, district's ecological details and representative scuptural arts and crafts of Tamil Nadu.
The Mukurthi Peak & Mukurthi National Park
Mukurthi Peak is about 40 km from Ooty. The Mukurthi National Park is located on the South Eastern corner of the Nilgiris Plateau. The area contains a viable population of Nilgiri Thar (Hamitragus hilocrius). The Silent Valley is located on the Western side of these ranges. Fascinating feature of the Mukurthi Santuary is its endemism and relationship with Himalayan Flora and Fauna.

Ketty Valley View
Located on the road to Coonoor, this idyllic spot is a cluster of tiny villages that extend to the plains of Coimbatore and Mysore plateau.
Pykara
Situated about 21 km on the Ooty-Mysore road, boasts of well protected fenced Sholas, Toda settlement, undisturbed grassy meadows and also a good wildlife habitat. The Pykara Dam and the reservoir attracts many tourists.
Glenmorgan (17 km)
This is an Electricty Board (E.B.) winch carries staff from Glenmorgan view point to power house at Singara. All the 4 km of the winch track passes through undisturbed sholas and wildlife habitat. Prior permission of E.B. authorities should be obtained to enter the view point zone. There are about ten Toda (tribal) settlement.
Upper Bhavani
10 km from Korakundah and about 20 km from Avalanchi. Some of the best sholas like the Thar Shola lies enroute. The area is a rich and undisturbed wildlife habitat. From Bangithappal via Sispara one can trek to Silent Valley.
Avalanchi
Located at a distance fo 28 km from Ooty, a beautiful lake surrounded by a thick shola where even sunlight cannot penetrate and abundant with a wide variety of avi fauna is a Nature lover's paradise.
Western Catchment
It is about 20 km from Parsons Valley. It consists of Rolling grassy downs interspersed with temperature sholas occupying depression and valleys.
Madumalai Wildlife sanctuary

Lying in the Nilgiris District abutting Kerala & Karnataka State, this is situated at an elevation of 1000 m and extends over an area of 321 sq km. The wildlife includes elephant, gaur, Tiger, Panther, Sambar, Spotted Deer, Barking Deer, mouse, Wild Boar, porcupine etc.
Doddabetta
It is the highest peak (2623 m) in the Nilgiri's and is 10 km from Ooty. It lies at the junction of Western & Eastern Ghats and offer beautiful vistas of the Nilgiri Hills ranges. There is a telescope house run by TTDC.
Kalhatty Water Falls
It is located on the Kalhally slopes and about 13 km from Ooty.
Wenlock Downs
A vast expanse of understanding landscape offering Gymkhana Club, the Government Sheep Farm and Hindustan Photo Films company besides pleasure of long stroll on quiet road.
Elk Hills
A wide range and uninterrupted view of Ooty and the Lovedale valley can be had from here.
Snowden Peak
Situated at the Kothagiri road, it offers a picturesque view of Mysore.
Treeking Routes
A number of trek routes have been identified. Trekking is also organised in breathtaking picturesque routes.
Hang Gliding
Hang gliding courses are also organised during March to May every year, with the assistance of Dept. of Tourism.
Angling : Good trout, Carp and mixed water fishing is possible in various streams and lakes in the Nilgiris. Fishing licence for a fee is issued by the Assistant Director of Fisheries, Fish Dale, Udhagamandalam near bus stand.
SHOPPING
Poompuhar Handicrafts (Govt of Tamil Nadu), Kairali Handicrafts (Govt of Kerala).
TRAVEL ESSENTIALS
Area : 36 Sq km
Altitude : 2,240 m
Climate : Summer Max. 25 °C and Min. 10 °C. Winter 21 °C and Min. 0 °C.
Best season: April to June and September to November.
STD Code : 0423
Transport
By Air : The nearest airport is Coimbatore(100 km) which is connected to Chennai, Mumbai and Bangalore.
By Road : Ooty is connected by good motorable road to Chennai and Coimbatore. There are regular bus services connecting Ooty to Coimbatore, Trichy, Bangalore, Madurai, Kanyakumari, Mysore, Palakad, Kozhikode and Tirupati.
By Rail : Ooty on the narrow gauge railway is connected to Mettupalayam which is directly connected to Coimbatore and Chennai.
Road Distances
| | |
| --- | --- |
| Place | km |
| Coimbatore | 89 |
| Bangalore | 290 |
| Chennai | 535 |
| Kodaikanal | 264 |
| Madumalai | 64 |
| Mysore | 160 |
| Coonoor | 19 |
TOURIST OFFICE
Department of Tourism, Govt. of Tamil Nadu, Panagal Maaligai, Saidapet, Chennai-600 015. Email: vsnl.itbmd@gems.vsnl.net.in Tel: 044 - 4321122.
Tourist Office, Govt. of Tamil Nadu, Supermarket Complex, Charing Cross, Ooty-1. Tel: 0423-43977.
Tamil Nadu Tourism, 2/254, Kingsway House, Road No. 31, Sion East Mumbai. Tel: 022-4031084.