World
>
India
>
Museums
> Museums Of Goa
Museums Of Goa
The Archaeological Museum, Old Goa (*)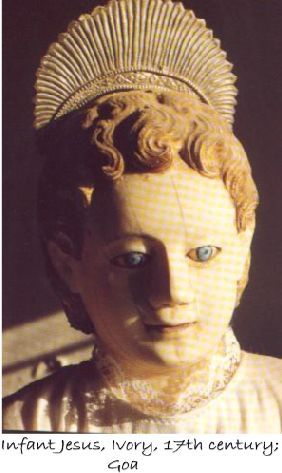 Old Goa is just 9 km from Panaji, the capital of Goa. At this site are numerous churches that date from 16th century onwards. Ancient Goa was once in the mainstream of India's history. There is evidence of its association with the Mauryan empire. The land was later ruled by a number of dynasties : the satavahanas, the Bhoja and the Chalukyas af Badami till the 13th century. In the 11th century the Kadambas of Goa moved their capital to Goapur or Goa Velha. Trade by both sea and land flourished, and Hindusim and Jainism were patronised. This land was then conquered by generals of the Delhi Sultanate, following which it formed part of the Vijayanagar kingdom. The Adil Shahis of Bijapur held sway in the 15th century and evidence of their occupation remains in the Gate of the Palace of Adil Shah, not far from the church of St Cajetan in Old Goa today.
Vasco da Gama, the Portuguse explorer opened the gates of Goa for trade with India after his arrival in Calicut in 1498. In search of a foothold on Indian soil, with little interference from local rulers, the Portuguese set up base on the idyllic shores of Goa in 1510 when Alfonso de Albuquerque succeeded in driving out the force of Ismail Adil Shah.
A convent behind St. Francis of Assisi church is now the archaeological museum. It houses the portraits of Portuguese viceroys, sculpture fragments from Hindu temple sites, and stone vetal images from the animist cult that flourished in this part of India centuries ago. The key gallery has statues belonging to the Hindu period - sculpture of deities such as Uma- Mahesh. There are a number of Sati (sutte) and hero stones. These stone slabs were erected in memory of a warrior, often to mark the place of his untimely death. The stone slabs have inscriptions and a small panel with relief sculpture depicting some aspect of the associated legend of the warrior hero.
There are large paintings of the Portuguese explorer Vasco da Gama and founder Alfonso de Albuquerque. The painted portraits, yellowing with age, give us some idea of these fearless travelers, explorers and empire builders. Dressed in the fashions of their homeland, they look almost regal with their determined, self-assured expressions. On the first floor there are a number of portraits of Portuguese Governors.
There is a large coin collection that traces the chequered history of Goa and its occupation by various rulers, including the Portuguese.
The courtyard or enclosed garden of the convent is well maintained. An air of peace and tranquility still surrounds the churches, each one of them now virtually a museum in itself, recording the history of Goa.
The Archaeological Museum, Old Goa, Goa.
Hours : 10 am-5 pm except on Fridays and government holidays. Admission Rs 5, no photography.
Suggested viewing time : At least half an hour, visit to the nearby churches a whole day.
CHRISTIAN ART GALLERY, Old Goa
Convent of St Monica & church is a huge three storey laterite building was completed in 1627 has a miraculous weeping cross. The one half of the church is the Museum of Christian art (admission Rs 20) contains statuary, paintings and sculptures transferred here from the Rachol Seminary. Many of the works of Goan Christian art during the Portuguese era were produced by the local Hindu artists. The gallery exhibits wooden statues of various Christian Saints and others including Pieta. There are portraits of Portuguese Governors and Prime Ministers, rare painting on wood, metal and canvas, furniture pieces etc.
Ancestral Goa at Loutolim (***)
The 250 year old grand mansion of Casa Arajao Alvarez (admission Rs 100, Camera Rs 10) is 10 km north east of Madgaon. It exihibits a variety of antiques from the Portuguese era. The re-creation of 18th century Goan village life under the Portuguese a century ago at Ancestral Goa is worth visiting (admission Rs 50). It has 14 m long laterite statue of Sant Mirabhai (India's longest), a Rajput princess and historical figure.
Chandor (**)
The superb 17 century colonial mansion - Braganza house is 15 km from Madgaon at Chandor. It is now divided into east and west wings. The ballrooms have Italian marble tiles, Belgian glass chandeliers and carved rosewood furniture. The most impressive west wing has beautiful furniture and Chinese porcelain. The two large rooms behind the entrance halls contain Dr Menezes Braganza'sextensive library.
The east wing has a small family chapel containing a carefully hidden relic of St Francis Xavier - a fingernail. The house has a good collection of antiques, a ballroom with mirrors and Chadeliers, furniture, palanquins etc.
Both houses are open daily and give you a guided tour. Contributions for maintenance are expected (Rs 50 to 100).
The Fernandes house (Sunday closed) east of the church is also worth visiting. The 500 year old house has a secret hideaway with an escape tunnel to the river. Buses operates regularly from Madgaon to Chandor.
SCULPTURE GALLERY
The gallery displays stone sculpture and bronzes of different deities. Hero and Sati stones etc. The gallery also exhibits inscriptions or their photographs dating from the 4th century A.D. onwards, significant among them being a copper plate inscription of Viravarma, a Kadamba King dating back to 1049 A.D. The oldest object in the museum is a fossil bone dating 10000 B.C.
BANERJI ART GALLERY
This museum features terracotta objects of the Harappan civilization, seals of Janapadas, stone sculptures of the Gandhara School of art. Also displayed are Rajasthani miniature paintings, Patachitras if Orissa and a Vishnu image of the Gupta period.
RELIGIOUS EXPRESSION GALLERY
Musical instruments, worship utensils, palm leaf manuscripts and paper manuscripts of different religious texts and old photographs of religious ceremonies and festivals are on display here. Kristu Kala Mandir at 17 century Archbishop house exhibits Christian art gallery. Wax Jesus with cross is the main attraction.
CULTURAL ANTHROPOLOGY GALLERY
Displayed in this museum are objects related to cultural anthropology household utensils, games, weights and measures.
CONTEMPORARY ART GALLERY
Paintings and sculptures of Goan as well as other Indian artists like R.Chipmaker, F.N. Souza, S.H. Raza, M.F.Hussain are on display.
WESTERN BRONZE GALLERY
Replicas of bronze sculptures of European artists like Claude, Dalon are among display, Timings: 9.30 a.m to 5.30 p.m. Monday to Fridays Contact: Director of Museum, Tel: 0832-226006.