BizHat.com
>
World
>
India
>
Hill Stations
>
Uttarakhand
> Mussoorie
Mussoorie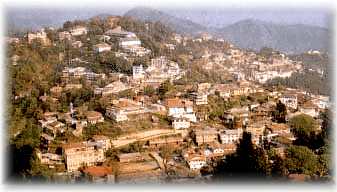 At an altitude of 2000 meter and 28 km beyond Dehradun, Mussoorie has been a popular hill station since it was 'discovered' in 1823 by Captain Young. This erstwhile aristocratic resort is now a popular hill station and promises a variety of entertainment throughout the year. Landour retains much of the old-world charm of the place.
Municipal Garden a picnic spot with a beautiful garden and an artificial mini lake with boating facilities. Just 4 km by road or a pony ride and 2 km on foot on the mountain trail. Camel's back road a superb rock formation, with a life-like resemblance to a sitting camel, can be seen from this spot.
Mussoorie lake is a delightful spot where paddle boats are available. It commands an enchanting view of the Doon valley and nearby villages, 6 km from Mussoorie. Ancient Nag Devta temple situated on Cart Road is about 6 km from Mussoorie. Vehicles can go up to the temple. George Everest House the park estate of Sir George, the first Surveyor General of India, who had his office and residence here, 8 km from Mussoorie. Mt.Everest, the highest peak of the Himalayas, is named after him.
Places to visit
The Mall, the nerve centre of Mussourie, faces Dehradun, and distant snow clad peaks can be spotted from the summit of Gun Hill, 2142 m above sea level. A 400 m Rope way (cable car ride) links Gun Hill with the Mall. Another tourist attraction is the Children's Lodge, the highest vantage point in the vicinity, 5 km east of the Mall. A powerful telescope is installed at children's lodge, the view of the snow from this spot is exhilarating. Lal Tibba, is the highest point in Mussourie at 2,438 m, 5 km from the centre of the town. 15 km from Mussourie, along the Chakrata road are the famous Kempty Falls, which are a popular tourist site. The stretch of land from the Falls to the Yamuna gorge, which houses gharals (mountain goats), a few leopards, and a teeming avian fauna population, is being called a sanctuary.
The Mossey Falls, (6 km), and the Bhatta Falls (12 km) are the other places worth seeing around Mussourie. 24 km away from the resort, on the Tehri road, is Dhanoulti, a picturesque spot, beyond which is the Sukhanda Devi temple, perched at an altitude of 3021 m, the highest point in the outlying area. 45 km away from Mussourie, the shrine is reached, after a dramatic 3 km climb to the summit, which offers a fantastic panoramic view of never ending stretches of pristine snow.
Accommodation
Hotel Shipra, Osho Resorts, Ajanta Continental, Hotel Meedo's Grand and Hotel Hilton.
How to Reach
Dehradun is an important rail head on Northern Railway and is connected to many parts of the country with express trains. Dehradun is well connected by road. Easily reachable from Delhi, Haridwar, Rishikesh, Agra, Shimla, Yamnotri.