World
>
India
>
Hill Stations
>
Himachal Pradesh
> Manali
MANALI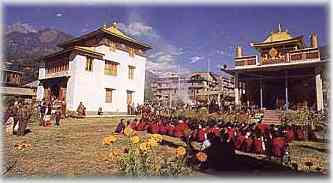 Manali, Himachal's main tourists resort stands at the head of the Kullu Valley, 108 km north of Mandi. Despite lying at the heart of the region's highest mountain ranges, it remain easily accessible by road from the plains. It is located at an altitude of 2050 m, and is situated along the banks of the Beas. It has lovely forests of towering cedars, circled by snowy peaks and the unending roar of the Beas as a constant companion. Manali also offers unparalleled opportunities for trekking, rock climbing, angling and winter sports.
What to See
Hadimba Devi Temple :Also known as the Dhungri temple, dedicated to the goddess Hirma Devi, and located in a forest grove amidst deodar trees a thousand years old. The temple, in its tranquil setting, is four-tiered, has a pagoda shaped roof and at the entrance are carved figures and symbols.
Tibetan Monastey : This small monastery has several Buddha images and thankas.
Jagatsukh : The ancient capital of Kullu, there are some ancient temples.
Vashisht Springs : The hot water Sulphur springs have been turned into turkish baths with shower rooms and temperature controlled water is piped in.
Solang Valley: Reached by a jeepable road, this is a favourite picnic spot and camping site with a, skiing slope enroute to kothi, with glaciers at close hand.
Rohtang Pass : The highest point on the road where it can be chilly even on summer day, 13,050 ft. Close by is a little lake called Dassaur lake. Beas Kund, the source of river Beas is at Rohtang Pass.
Adventure
Fishing : The Mountain streams around Manali are ideal for angling, specially for trout.
Skiing : In the winter months, skiing is possible at Solang Nala, and at Rohtang Pass it can be attempted till early May. A winter Carnival is held here every year in Feburary.
Mountaineering Institute : The mountaineering Institute Located at Manali provides training for basic and advanced adventure sport activites like rock climbing, mountaineering, high altitude trekking and skking.
Getting There
By air : The nearest airport is at Bhuntar (50 km).
By rail : The nearest narrow gauge railhead is at Jogindernagar (135 km). The nearest broad gauge rai heads are at Chandigarh (310 km), and Ambala (355 km).
By road: The distance from Delhi via Mandi is 585 km, and from Simla the distance is 270 km. From Simla, Chandigarh and Delhi, luxury buses run by Himachal Tourism regularly ply to Manali.
Accommodation
Ashok Mayur, Diplomat, Chetana, HPTDC Log huts.