World
>
India
>
Hill Stations
> Pachmarhi
Pachmarhi, Madhya Pradesh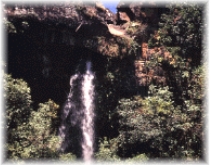 Pachmarhi at 1000 m above sea level, is a place where Nature has found exquisite expression in a myraid enchanting ways. Each dawn at this lovely hill resort girdled by the Saputara ranges ushers in a day of tranquil beauty, bridle paths lead into tranquil forest glades; groves of wild bamboo and jamun, dense sal forests and delicate bamboo thickets, the fruit- bearing mahua, aonla and gular tress, all lend their distinctive colour tones. The valley ravines and maze of gorges, sculpted in red sandstone by wind and weather aeons ago, add their own coluring to this palette of shades, and cascading waterfalls flash silver in the sunshine. Deep azure pools are hidden delights that beckon swimmers and paddlers and everywhere, wildlife watchers will be rewarded by fascinating glimpses of the animal and bird kingdom. The forests are natural habitats of woodland birds and wild species like the langur, sambar, gaur or Indian bison, barking deer, bear, wild dog and leopard. Eagles soar in majestic flight over cliffs, coming to rest at sunset, when the sky gets painted a deep pink and orange, colours that are reflected in the steep mountain scarps.
Pachmarhi is also an archaeological treasure house, the Mahadeo hills shelter caves containing an astonishing richness in rock paintings. The bulk of these have been placed in the 500-800 A.D. period but the earliest paintings are an estimated 10,000 years old.
How To Reach
The nearest airport is Bhopal (195 km). Pipariya (47 km), on the Mumbai-Howrah Mainline via Allahabad, is the most convenient railhead. The hill resort is well connected by regular bus services with Bhopal, Hoshangabad, Nagpur, Pipariya. Taxis are also available from Pipariya.
Things to See
Priyadarshini Point : This vantage viewing point marks the place from where Pachmarhi was discovered. In 1857, Captain Forsyth, a Bengal Lancer, approached the plateau at the head of a column of troops, from here he first glimpsed the extraordinary beauty of this saucer-shaped scenic spot.
Acting on Forsyth's information, the British developed Pachmarhi as a sanatorium and hill resort and even today, their legacy remains, embodied in Pachmarhi's church and colonial architecture.
Handi Khoh : Pachmarhi's most impressive ravine has a 300-feet-high precipice and dramatically steep sides. A solitary place, with water flowing far, far below with an incessant murmuring sound, Handi Khoh's over-hanging crags shelter gigantic, undisturbed beehives.
Jalawataran (Duchess falls) : 3 km along the path from Belle View, branching off from the milestone for Bhrant Neer, is a route to the beautiful Duchess fall. The decent is steep and the trek a strenuous one for almost all of the 4 km walk to the base of the first cascade of the fall. This waterfall, that tumbles down in three distinct cascades, is the most picturesque of all Pachmarhi's falls.
Bharant Neer (Dorothy Deep) : is accessible via a steep descent from the footpath around Astachal hill. It has well executed animal paintings and when excavated in the 1930s yielded many pottery shards and microliths. On Astachal hill are four shelters with paintings, comparatively early linear drawings. Along the northern side of Jambu Dwip valley are some six shelters with many paintings of animal and human figures, including a detailed battle scene.