World
>
India
>
Hill Stations
>
Tamil Nadu
> Kodaikanal
Kodaikanal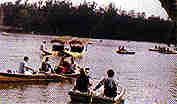 Located 120 km away from Madurai, Kodaikanal is a beautiful hill station at an altitude of about 2133 m on the southern tip of upper Palani hills in Tamil Nadu in the Western Ghats. A well known feature and the one that attracts a lot of tourists is the blooming of the famous kurinji flower, which blooms once in 12 years.
PLACES OF INTEREST
Kodai's most enchanting sights include the star shaped lake, spread over an area of 24 hectares where you can take up fishing and boating. A short walk from the lake and you can enjoy a magnificent display put by nature at Bryant's park.
One of the world's oldest solar observatories is situated in Kodai, built in 1899 and from Kodai's two telescope houses to catch a glimpse of the heavens. Coaker's walk, running along a steep slope, offers a panoramic view of the plain. Green Valley view on the other hand provides a beautiful view of the Vaigai dam. Bear Shola falls a pretty little cataract, offers endless hours of cool relaxation.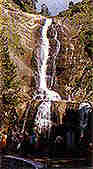 Silver Cascade (8 km) and Kumbakkarai (65 km) are waterfalls situated in some of most wooded parts of the hill station. Berijam Lake, situated (21 km) from the township, lies in a beautiful valley, reflecting the glory of the specious in its clean waters. Dolphin's Nose (8 km), a projecting rock provides a view of the deep chasm below. Climb 2400 m high Perumal Peak. And you'll be rewarded with one of the most wonderful views in around Kodaikkanal. Shenbaganur Museum (5.6 km) at the Sacred Heart College where about 300 species of orchids bloom and it is easily one of the best orchidoriums in the country offering the visitor.
Kukkal caves (40 km) and Dolmen's Circle (22 km) are famous pre-historic, archaeological sites.
Kodaikkanal too offers the visitor two historic temples. The Kurinji Andavar temple (3.2 km) is dedicated to Lord Murugan. It also offers the worshipper a beautiful view of the northern plains and the Palani Hills. Palani (64 km) is of course, a famous pilgrimage centre and is mythologically believed to be one of the six abodes of Lord Subramanya. Other than these two, the Mariamman temple, Vinayagar temple, Murugan temple, Two mosques at Ellis Villa and Munjikal and the sacred Heart Church, Munjikal, Francis Xavier church, Gorapur, St. Mary's Church, Lassalette, St. Joseph's church, Luthern mission church, Lake end offer, the devout a relaxed genteel place to pray.
Trekking Routes
Kodaikanal-Dolphin's Nose-Vallagavi-Kumbakkarai (8 km) - It takes 5 to 6 hours. The return trip would be very rough and the hiking need strong physique.
Kodai-Thopi thokki parai-Periyar Periyakulam : Roughly a 5 hour trek of 19 km includes steep rise and one can have a glimpse of Guar. Coffee plantations are in abundance.
Kodai-Vilpatty-Ganesapuram-Puliamarathope-Palani : A 6 hour trek of 16 km distance, takes you to Vilpatty village and from there, a zigzag steep path runs along the river Palar. Elephants may cross. Be alert.
Kukkal-Kudiraiyar Dam : A difficult 13 km long trek route takes 5 hour for a trained trekker. Waterfalls, sholas and deciduous forests will arouse interest. Better to take a guide.
Pallangi-Poruthalur dam : A 5 hour trek covering 14 km runs through sholas, teak forests and plantations. It is advisable to have a guide.
Notes : For trekking through the forests in Tamil Nadu, one has to get prior permission from the Forest Department. Permission can be obtained from : The Principal Chief, Conservator of Forests, Panagal Building, No. 1, Jennis Road, Saidapet, Chennai-600 015. Tel: 044-434 8059. OR District Forest Officer, Kodaikanal division, Kodaikanal-624 101. Tel: 04542-40287.
SHOPPING : At Kadhi Emporium, Handloom Co-operative Stores and Taravancore Crafts Work, Government Silk Emporium, Kurinji Mini Super Market, Spencer & Company.
TRAVEL ESSENTIALS
Area: 21.45 sq km
Altitude : 2,133 m. CLIMATE: Summer Max. 19.8 °C and Min. 11.3 °C. Winter 17.3 °C and Min. 8.3 °C.
Best Season : April to June and September to October. But can be visited throughout the year. STD CODE : 04542.
HOW TO REACH
By Road : You can take buses from Madurai, Palani, Coimbatore, Dindigul and Trichy.
By Rail : The nearest railway station is Kodai Road. By Air : You'll have to fly to Madurai and take a car or bus to Kodai.
Road Distances
| | |
| --- | --- |
| Place | km |
| Madurai | 120 |
| Kodai Road | 80 |
| Bangalore | 230 |
| Chennai | 520 |
| Coimbatore | 175 |
| Dindigul | 105 |
| Munnar | 180 |
| Ooty | 264 |
| Trichy | 197 |
Tourist Offices
Department of Tourism, Govt. of Tamilnadu, Panagal Maaligai, Saidapet, Chennai-600 015. Email: vsnl.itbmd@gems.vsnl.net.in Web: http://www.tamilnadu.tourism.com/ Tel: 044 - 4321122.
Township Rest house Complex, Bus Stand, Kodaikanal.Tel: 04542 - 41675.
Tamilnadu Tourism, 2/254, Kingsway House, Road No. 31, Sion East, Mumbai. Tel: 022-4031084.