India
>
Trekking
> Jammu and Kashmir, Ladakh
Ladakh, Jammu and Kashmir
Due to the vastness of the terrain, Ladakh with its high altitudes and sparse population, is considered the state's most difficult trekking region. With the lowest altitude around 11,000 feet, in some areas just breathing can be a problem, and acclimatization prior to the trek is essential. The trekking trails in many parts of Ladakh are difficult to follow, which necessitates the trekkers to be fully equipped and prepared for any eventuality. Ladakh has been variously described as 'moonland' and 'frozen desert'. Certainly the terms are justified - greenery is rare, and even when encountered, has a certain austere quality about it..
At Leh and Kargil in Ladakh, Jammu city, Pahalgam, Gulmarg, Sonemarg, Yusmarg and Aharbal, all bases for treks, tourist offices can assist you in procuring porters and ponies, if required. In addition to this, a number of excursion agents and tour operators who specialize in organizing treks are also available here.
At an altitude of more than 9000 ft, Ladakh offers adventure amidst beauty which surpasses any other mountain range. Tucked between two of the world's greatest mountain ranges, the Himalayas and the Karakoram, this forbidden valley lay hidden from the outside world - inaccessible at first because of its hostile terrain and then banned to tourists due to its strategic geographic position. Its snow-clad peaks, translucent lakes, barren terrain and mystic culture has attracted tourists and explorers from all over the world.
Trekkers in the Ladakh region
The main hindrance in trekking in this region is due to cold waves and snow i.e. extreme wintry conditions. For trekking in Ladakh, one has to be physically fit and prepared to face the rigors of back country travel as well. The fluctuations in the day and night temperature takes its toll.
Trekking possibilities include short, day-long walks or long mountain treks involving weeks of walking and camping in the wilderness. Depending upon the time and budget, tourist offices at Leh, Kargil or Padum can design trekking programmes for you. But the easiest way to go on trek is through a travel agency, which will take care of all arrangements including camping gear, provisions, porterage, staff and all other matters. As the terrain is inhospitable and ecology very fragile, it is advisable to take as much provision and fuel as possible from the base camp.
Scenic beauty of the mountains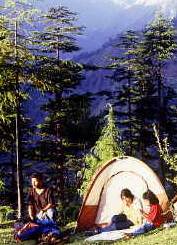 The evenings are chilly and the days are rather hot. Thus, special clothing is required for trekking in this region. Pullovers and anoraks should be kept handy. A sturdy pair of walking shoes with strong rubber or synthetic soles for grip, thick cotton socks and good sleeping bag together with an insulated ground pad are essential gear for going on a trek even if you may be passing through inhabited areas with the possibility of accommodation in village homes and monasteries. A waterproof tent will have to be carried besides provisions and cooking gears, all packed in a good quality rucksack. A good quality water container is a must to carry the drinking water so essential during high altitude trekking in arid conditions. Do not forget to carry a flashlight with sufficient batteries, a sun-hat, first-aid and a pair of good quality sunglasses with sufficient filter-factor to check the sun's brightness and UV rays.
The J&K tourism department maintains trekking equipment hire shops in its Srinagar, Leh and Kargil offices. Some private establishments also provide similar trekking gear on hire.
Popular Trekking routes
The trek from Lamayuru in the Indus valley to Darcha in Lahul across Zanskar takes nearly three weeks. The 10 day Markha Valley trek and the 11 day Lamayuru-Padum traverse and the Stok-Khangiri round trek are the most popular treks. In the late autumn season treks like Hemis-Markha-Padum, a 13 day trek becomes operational. This trek is not suitable for the summers.
The trekking season is from July to September.
WAISHNODEVI - Hindu pilgrim centre, 14 km trek from Katra (40 km from Jammu).
KALHOI glacier (5485 m) - Pahalgam to Aru (11 km, jeep), trek to Lidderwat (11 km, PWD rest house) to glacier (3350 m, 13 km). 35 km trek from Aru : 3 day. Lidderwat - meadows in forest and camping site.
OR
Trek from Serbal before Baltal near Sonmarg to Kalhoi glacier via Nilamug.
TARSAR - MARSAR lakes (3795 m) : 8 hour trek from Lidderwat. Both lakes have ice floes floating on their surface.
AMARNATH (3900 m) - Hindu pilgrim centre, cave temple with ice Shiv lingam which waxes and wanes with moon, Pahalgam to Chandanwari by jeep, trek to Panchtarani via Sheshnag and then to cave, return to Baltal in 4 days (60 km); Sheshnag - lake, glaciers via trek from Pahalgam (20 km). Season : July to Sept.
HARMUKH (5184 m) - Srinagar to Bandipur by bus. Travel to Sumlar by jeep (8 km). Trek to Sarbal via Kudara (18 km), then to Harmukh via Ganaspatra (12 hour stiff climb). Located near Wular lake.
SONMARG (2740 m) - Tajiwas glacier (4 km) & Khajiar glacier. 81 km from Srinagar.
1. BALTAL (20 km) - Base camp for trekking to Amarnath cave (15*2 km, in a day).
2. Sonmarg to Cathedral peak via Lashimarg and Nichinai (3620 m, 13 km).
3. From Nichinai trek to Vishansar & Kishansar lakes via Ram Patri (3818 m, 13 km) after crossing 4080 m range.
KARGIL - Nun (7135 m) & Kun (7017 m) peaks are within 250 km, by Kargil - Padum road reach Gulmatonga. Trek to base of Kun (15 km). Nun base trek : Kargil to Parkachik via Pannikar by bus/truck. Trek to Shafat (20 km, BC for Nun). The Kargil - Padum road is over Pensi la (4401 m).
LEH (434 km from Srinagar at 3512 m) - Khardung la (5600 m, 40 km) - World's highest motorable road leading to the roadhead (Panamik) for world's highest war field - Siachen glacier (6700 m).
MARKHA VALLEY TREK - Spituk to Zingchen (12 km), to Yuvutse (14 km), to Sku via Kanda la (4800 m), to Markha (12 km), to Hankar (11 km), to Nimaling (10 km), to Shang Sumdo via Kongmaru la (5100 m), to Martselang (10 km), to Hemis (6 km) : 8 days. Then to Leh by bus.
OR
Karu (50 km from Leh) to Chogdo via Marchelang and then to Nimaling via Kongmaru la (5100 m) : 14 km, views of Kang Yaze (6400 m). It snows even in summer and nights are chilly.
LEH - MANALI (475 km, 2 days) : One of the world's highest roads over Tanglang la (5300 m) and Lachlung la (5100 m). Trek enroute - From Darcha on Manali to Leh road to Zanskar Sumdo (25 km) and to Pulu over Shingku la (5100 m). Trek further to Padum : 12 days.