World
>
India
>
Rajasthan
>
Museums
> Museums Of Jaisalmer
Museums Of Jaisalmer
Folklore Museum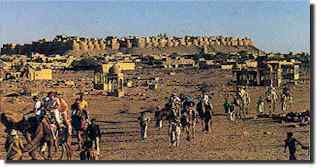 For anyone interested in seeing the culture of Jaisalmer on display through the ages, the Lok Sanskritik Sangrahalaya or the Museum of Folk culture situated on the banks of Gadsisar lake in Mehar Bagh garden is a must. This museum was established in 1984 by N.K. Sharma, a local connoisseur.
This well organised museum is divided into six sections and has a rich collection of paintings, photographs, costumes, hairstyles and jewellery, utility articles of rural life, camel and hone decorations, fossils, ornamental arches, as well as articles connected with folk and cultural lifestyles.
Location : Mehar Bagh Garden, Jaisalmer
Timings: 9.30 a.m-4.45 p.m. Entry : Rs.5 for Indians, Rs.10 for foreigners (Friday closed).
Government museum
The large collection of wood and marine fossils in the museum gives an insight into the geological past of the area. The sculpture from the ancient townships of Kiradu and Lodurva dating back to the 12th century pulsate with youth and grace and depict the artistic skill of the time. A glass case exhibited the Great Indian Bustard and Tilor which are birds of the desert.
The Government museum in Jaisalmer is situated on police line road near Moomal hotel. It was opened in 1984. Timings : 9.30 am-4.30 pm. Entry: Rs.3 for Indians, Rs.10 for foreigners (Friday closed).
Jaisalmer - 650 km from Jaipur, fort, palace, museum, Amar sagar (6 km) : lake, Jain temple, Badabagh (6 km) : Royal centograph, lake, Ludrawa Jain temple (16 km) : Splendid carving, Aakal fossil park (17 km), Sand dunes at Sam National desert park (40 km), Jain temple of Rikabdevji and Sambhavnathji, Manek Chowk and Salim Singh, Nathwaji and Patwon ki Havelis.