World
>
India
>
Museums
> Museums Of Jaipur
Museums Of Jaipur
The Maharaja Sawai Madho Singh II Museum (*****)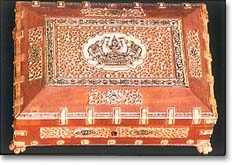 This museum is divided into three main sections; the Textile Gallery in Mubarak Mahal; the Arms Gallery; and the Art Gallery in the Diwan Khana.
In the first courtyard, as you enter, stands a charming little square structure called the Mubarak Mahal, the guesthouse built by the royal family in the late 19th century. the carved stone and marble archways are in a style reminiscent of Mughal architecture, with a combination of Hindu and Islamic designs. This is a two-storeyed building: the ground floor is for administrative offices, and the first floor, approached by a narrow staircase to one side, contain the Textile Gallery.
The Textile Gallery
In the first room is a display of brocade garments of the Jaipur royal family. coloured silks with woven silver and gold motifs were used to make tunics for the men, held at the waist by a cloth sash or belt called a kamarband (cummerbund). Most popular amongst these collection is the oversized garment, the atamsukh of Maharaja sawai Madho singh I (reigned 1750-68), who, as the guides will tell you, was seven feet (two meters) tall and four feet (1.23 meters) in circumference (around the tummy). He must have weighed a good 500 pounds (230 kilograms).
the most famous region for the production of fine delicate silk brocade was and still is Varanasi (or Banaras) in Uttar Pradesh, and a lot of the samples displayed here come from that region. Each individual motif was woven into the silk warp and weft of the cloth by the introduction of gold threads to create the design.
In two of the rooms in the textile gallery there are displays of cotton hand-printed fabrics from Sanganer. the town of sanganer is 16 kilometers (10 miles) south of Jaipur, and is still the centre for delicate wood block-printed cloth. Among the embroidered item are samples worked with gold, with silver thread, with sequins and ribbons.
Zari is gold, and zari work refers to the gold-thread embroidery that was popular with the ruling classes in north India. The workmanship on the huge flowing skirts and head covering (dupatta, or odhani) is superb. There is a sad, rather dusty diorama of a palace room full of women dressed in Rajasthani attire - long skirts full of gathers, embroidered odhani, blouses and jewellery - which gives us some idea of how a variety of prints, brocades and embroidered items were worn together, to produce a rich and dazzling ensemble.
The Arms Gallery
At a corner of the courtyard in which the textile gallery stands is the gallery of arms. this gallery is always bright and shiny, perphaps because the weapons are so well polished and cared for. On display is the katar a two-sided blade with a grip that was sheathed and then hitched to the waistband or cloth sash worn by men over their tunics. In some of the Rajput paintings in the art Gallery you can see how the katar were worn as part of formal attire by courtiers and princes. There are figurative scenes of gods and goddesses and hunting scenes of men pursuing animals. Other decorative designs are floral, with creepers and flowers weaving into the one another to form an almost woven texture. There are daggers with ivory handles, in which the hard, creamy brown surface is carved into different forms - a parrot, an animal's head or a flower, for example.
There are other daggers with jade hilts, in hues of green and white. the jade was carved into hilts with animal motifs, often bejeweled with inlaid precious stones and gold. Such ornamental daggers, with elaborate handles, were worn formally, with ceremonial costumes. The museum rooms have lovely painted ceilings, and walls decorated with all kinds of weapons, shields, swords, spears, daggers, knives and other beautiful but deadly instruments of aggression and destruction.
The Art Gallery
In the middle of the second courtyard, past the royal gateway, there is a raised, pillared platform. On display are two large silver jars that have gone down in the Guinness Book of Records as 'the largest single pieces of silver in the world' (height 1.6 meters or five feet three inches, circumference 4.5 meters or 14 feet ten inches, with a capacity of 9,000 liters or 1,980 gallons each.
Towards the right of the hall containing the silver jars is the Art Gallery. the gallery is unfortunately very poorly lit, and the display very crowded, for it is housed in the painted Diwan Kahana of the palace complex. The roof has painted decorations, and the walls are adored with a collection of old Mughal and Indo-persion carpets. the carpets, by themselves, are beautiful, but it is difficult to appreciate their size, colours, or effect in the present display.
On the central raised platform of the Art Gallery are some palanquins and haudahs (howdahs), the seats that were mounted on elephants' backs. there are palm-leaf and paper books that were not bound but were held together in painted covers of wood. There are also scrolls, with religious texts, some so tiny that they could quite easily fit into a pocket.
In the main hall, the first glass cabinet of paintings (as you enter and walk clockwise around the room) has some interesting art of the Mughal School. A painting entitled Lovers at Night (Mughal, c. 1725) is an unusual piece. White flowers, the white of the marble architecture, and clothes glimmer in the moonlight. There is an interesting painting- The Madonna with Her child (Deccani school, 1627)- in which the figure of Joseph is executed in a purely European style, his face full of concern, and his gestures evoking those of Renaissance masterpieces.
Of interest also is the portrait of Sawai Madho Singh I on a Boat (Jaipur, 1750-67), for it is the artist's vision of this great ruler of Jaipur. The Princess on the Terrace (Mughal School, early 18th century), Jahangir and His Courtiers (Mughal,1750), the Princess and Musicians and Lady an a Swing (Amber, 1675-1700), for example. There are some strange paintings too, such as the one with figures of women that combine to form the body of an elephant - Nari Kunjam (Jaipur, 1770-1800)- and others of the Ragini series (Jaipur, 1770-1802). On one wall, high above eye level, are four large, very softly coloured paintings of the Baramasa series, reflecting the changing moods of each season of the year. the Lady with a Crane is a lovely example of this romantic school of art (Hyderabad, 1728-40).
Hours : 9.30 a.m. - 4.45 p.m. - Except on Government Holidays and during Dussehra - Diwali (Oct- Nov). Tel. No. 608055.
Admission: Entry: Rs. 150 for foreigners (no changes for still camera). For Indians Rs.35, (Rs.25 for ordinary camera, Rs.150 for video camera).
Suggested viewing time: An hour.
Archeological Museum, Amber
Located in the Dil-e-A-aram Gardens, of Amer, the ancient capital of Jaipur, and established in 1949. Prior to this, the excavated material from Rairh, Bairat, Sambhar, Nagar etc. and the sculptures and epigraphs collected from various sites in the erstwhile Jaipur State were housed at Vidyadhar Gardens in Purana Ghat. In July 1949 the entire collection was transferred to Dil-e-Aaram Garden, a part of the old palace 1992 in this complex.
The museum is divided into three sections : (i) Archaeological section, Which contains material recovered from excavations at Rairh, Bairat, Sambhar, Nagar, Pamvar, Bansi and Virat Nagar. (ii) Sculpture section.(iii) Epigraphy section.
There are two yupa Pillars (sacrificial posts) with inscriptions from Barnala; Pratihar sculptures from Abhaneris (8th century A.D.) and Terracotta from Rairh, Bairat, Sambhar and Nagar belonging to an early historical period. The material is arranged in chronological sequence, making the visitor familiar with the contribution of Rajasthan in various fields of art through the ages.
Timings : 10 a.m - 5.00 p.m. Friday closed.
Govt. Central Museum (Albert Hall)
Located in the centre of the sprawling Ram Niwas Bagh, this is the oldest Museum in the State. The building was designed by Colonel Sir Swinton Jacob. It was built in 1876 when King Edward VII visited India as the Prince of Wales. It was opened to public in 1886.
The various sections represented in the museum are : (i) Art and Industry (Metal, Wood and Pottery); (ii) Armoury; (iii) Textiles ; (iv) Carpets ; (v) Paintings; (vi) Geology; (vii) Zoology; (viii) Botany and (ix) Toys & Dolls. There is a Persian garden carpet of a fabulous cost obtained by Mirza Raja Jai Singh I from Shah Abbas of Persia. It contains various sketches of a Persian garden with running water streams.
There is also an Egyptian mummy belonging to the Ptolemaic Epoch. There are miniature paintings of various sub-schools of Rajasthan. A glimpse of the land and the people of Rajasthan is presented through well planned dioramas.
From 1959 onwards the various galleries along the ground floor of the museum were completely reorganised and renovated. People of Rajasthan, (both males and females) from the higher strata of society, such as Rajputs and Seths as well as the common tribal people like Meenas, Bhopas, Bhils, Gadoliya Lohars etc. find depiction here in their typical dresses and ornaments.
Typical designs and motifs in Mehndi Mandana, so characteristic of Rajasthani ladies, are also highlighted in the gallery. In the antechamber of the wing is exhibited puppetry from Rajasthan and the painted scroll delineating the scenes from Pabuji Rathore's life, a great folk- hero from Marwar.
The central gallery is devoted to Rajasthan'i music and dance. Original musical instruments, both classical and folk, are displayed in their functional positions. Specimens include typical folk instruments like Masak, Kamayacha, Dadh, Madal, Khanjari, Sitari, Bankia, Fungi, Algoja, Iktara etc.
The dances illustrated in the gallery include classical ones like Kathak, for which Jaipur Gharana is famous, as well as popular folk dances such as Dandia, Choomar, Holi etc. Festivals (like Holi, Gangaur etc.) and ceremonies (like marriage) are also dioramized in a lively manner. The museum functions as the State Museum of Rajasthan.
Location: In Ram Niwas Bagh, Jaipur. Attractions: Carpets, paintings, Egyptian mummy.
Timing: 10.00 a.m.- 4.45 p.m. (Friday closed). Entry: Rs.5 & Rs.10 (foreigners).
Museum of Indology, Jaipur
Created and established by Acharya Ram Charan Sharma 'Vyakul' in 1960, the museum has a collection of Folk and Tantra art. The eighteen sections of this three storeyed private museum include old manuscripts and archives, thematic folk art of India, Indian textile designs, Tantrik paintings and yantras, glass and pottery items, minerals, gems and fossils etc, making it one of the fined museums of Rajasthan. Timings: 9.30 a.m-4.45 p.m. Tel. No. 607455. Entry: Rs 20 for Indians, Rs 40 for foreigners.
JUNEGA ART GALLERY, JAIPUR
This museum hosts an impressive collections of paintings and artifacts. Timing: 10 a.m. – 8 p.m. Tel. 367448, 412416 (Sunday closed).
HAWA MAHAL MUSEUM, JAIPUR
The museum displays the sculptural heritage of Rajasthan. Items on display include antiquities, fish hooks, arrow heads, swords, helmets, all belonging to the Maharajas of Jaipur. A big storage vessel from the 2nd century A.D. is also on display. Timings: 9.30 a.m-4.45 p.m.(Friday closed). Tel. No. 618862, Entry: Rs.5 for Indians, Rs.10 for foreigners.