India
>
Trekking
> Himachal Pradesh
Himachal Pradesh
A journey through Himachal holds the promise of a deep and refreshing communion with nature in its varying beauty. The lush river valleys surrounded by snow-capped peaks, the fruit-laden orchards, gurgling streams and the dense forests that echo with bird song evoke enchantment and delight. Closer to the Greater Himalayan and Zanskar range, delight gives way to awe as one is faced with the stark, haunting landscape of the cold desert. Here, still lakes gleam like emeralds and sapphires amidst towering white mountains that stand aloof and forbidding in their majesty.
Scenic Himachal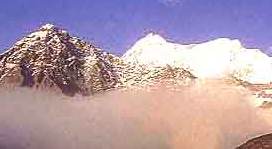 There are four mountain ranges running almost parallel to one another in Himachal Pradesh and thus creating charming and beautiful valleys and passes suitable for trekking. There are numerous passes on these ranges which connect the valleys, making good trekking routes for all types of trekkers. One can cross one pass and return over the other or proceed further to cross another on the next range. There are about two dozen passes on the Dhauladhar, a dozen over the Pirpanjal range and 8-10 such passes over the Great Himalayan range to cross over to the Zanskar valley. Himachal offers a virtual bonanza for trekkers.
The four great mountian ranges and a fluctuating snow line gives Himachal very cold climate. Though there are some regions which have hot summers and cold winters, majority of the trekking routes fall in those areas which are perinially cold. Thus trekking in Himachal requires adequate preparation to brave the cold wintry climate. For moderate to strenuous treks, the best season is from June to October. It is advisable avoid the winters for trekking.
Trekking routes
From Brahmour in the Ravi valley, the tracks follow the Gaddi trail in the Budhil nala and across the Kugti, Choia and Kalicho passes lead to the Chenab valley in Lahoul with the options of continuing to Leh, Spiti or Manali. Driving out of the Ravi valley, the road takes in the Khajjiar meadow and a diversion to the old hill station at Dalhousie. The treks can be divided in few categories like shorter options, Tough option, watershed, countless flora and many more.
Shorter Options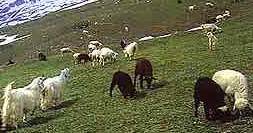 Drive from Kullu and reach the Manikaran hot springs. From here one can take a walk along the Parvati to the secluded village at Pulga. One can take short excursions upstream from here and return to Manikaran. This can be combined with a trek up the Tosh valley bordered by the Pir Panjal range and Papsura and Dharamsura peaks. Another 10-11 day trek can be taken up form Manikaran along the Pir Panjal range. The trail winds its way past Khirganga, Mantalai glacier to the top of the pass on the Kulu-Spiti divide. One reaches Dhankar in Spiti from where one can drive to Kaza and the Kunzum pass into Lahoul or take the Hindustan-Tibet (China) road for Shimla.
Adventure
Watersheds
There are number of trekking routes originating from the world's most prominent watershed. Chitkul (11,000 ft) in Kinnaur district, five to six trek days over the Rupin pass lead to the Naitwar in the tons valley, over the Borasu pass to the Haridun valley and the Lamkhaga and Chotkhaga passes to Harsil in the Bhagirathi valley. Moderate treks (4 days) can be taken over the Sutlej-Beas watershed.
Countless Flora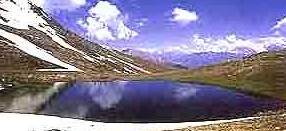 Moderate to strenuous trekking for 5 days, over the Beas-Chenab watershed leads to the Hamta Pass on the Pir Panjal range. The trek offers some excellent views of high peaks such as Indrasan and Deo Tibba. The Chandrabhaga triangular trek traces sources of the Chenab. Then there is the moderate trek for 3-4 days accesses the Chanderkhani pass. The trek begins at Jari and gets to the secluded Malana village which is said to be among the world's oldest democracies. The Sach pass crossing entails fairly strenuous trekking for 4 days. The trek begins at Trela. Once the Pass is crossed, there are ample opportunity for the crosssroad enthusiast.
Tough Options
Enjoy the 4-day trek tackling the Indrahar Pass. The trek originates at Dharamsala, home of the Dalai Lama, high above the artistic traditions of the Kangra school and descends to Chunarta near Brahmour. There are many path options form here. Some of them are quite tough and require execellent physical conditions to brave them. The Kugti, Chobia and Kalicho passes on the Pir Panjal range tie up with the Miyar nala in the Chenab valley and Lahoul, providing choices along the east fork to the Rohtang pass and Manali on the west road to Keylong, Baralacha pass and Leh. The Kugti and Kalicho passes have trek routes stretching between 5-6 invigorating days.
One of the Himachal's classic routes is the Chandra Bhaga triangle and the Baralacha pass. It has a number of entry points and exits enabling many combinations. One of the most fascinating routes in Himachal is from Manikaran to Pulga rest house along the Parvati river. This continues via Khirganga and Mantalai glacier to reach Pin Parvati Pass on the Kullu-Spiti divide. Descend to roadhead at Dhankar in Spiti.
Getting there
Capital city of Himachal, Shimla is connected to Chandigarh, Kullu and Delhi The nearest airport is at Jubbarhatti, 23 km from Shimla. The nearest airport to Manali is Bhuntar, 49 km away. The nearest broad gauge railhead is Kalka and Shimla has a narrow gauge line. By road Shimla is connected to all major centers in India. The trekking routes can be approached from various entry points like Manali, Kullu or Shimla. The places within the state are well connected by local transport as buses and taxis.
For further information on the trekking routes and itineraries, contact the Himachal tourist offices at various places. Equipment can also be hired from these offices. There are also few private operators who lend trekking equipment and essential commodities.
Popular Trekking Routes
MALANA (2100 m) - Naggar (30 km from Kullu) trek to Chanderkhani pass via Rumsu Thach (3650 m, 5 hour, views of White Sail (6446 m) and Papsura (6451 m), 12 km) then to Malana village (7 km) via Nagruni. 5 hour trek to Jari. Travel to Manali via Manikaran by bus : 4 days.
PIN PARVATI PASS (5230 m) - Manikaran (1700 m, 45 km from Kullu) to Pulga (2100 m, 4 hour). Pulga tourist bunglow is nearby. Pulga to Kheer Ganga (2850 m, 4 hour). Kheer Ganga to Bhojtunda (3200 m, 5 hour). Bhojtunda to Thakur Khan (3400 m, 5 hour). Thakur Khan to Mantakal Lake : 6 hour via Pandu bridge (50 km). Manatak lake to High camp : 7 hour. High camp to Pin Parvati pass - Pin valley : 5 hour. Pin valley to Mud (3600 m, 8 hour). Mud to Sangam : 4 hour. Distance of 100 km covered on foot in 9 days. Reach Shimla by bus (24 hour).
KINNER KAILASH - Shimla to Kalpa by bus (244 km) via Rampur. Kalpa to Thangi (2966 m) by bus. Trek to Lambar (12 km) - Charang (12 km, 3500 m) - Lalanti (8 km, 4420 m) - Base camp (6 km, 5000 m) - Chitkul (9 km, 3450 m) via Lalanti Pass (5000 m) - Sangla by bus : 8 days. Mt. Kinner Kailash (6474 m).
SACH PASS (4667 m) - Dalhousie to Chamba. Chamba to Trella (90 km, 5 hour). Trek to Bhanodi (2744 m, 13 km, 6 hour), Satrundi (3658 m, 13 km, PWD rest house), to Sach pass (5 km, 3 hour). Start early morning to avoid high winds.
TENTU PASS (4996 m) : Manali to Solang Nala (14 km) by bus. Trek to Dhundi (2480 m, 7 km, river crossing, jeepable route), to Beaskund (6 km) via Bakar Thatch and to Tentu Pass (3.5 km, steep climb over boulders) : 4 days. Pass is windy and temperature drop substantially at night. Start early morning to avoid high winds. Season : Mid June to Sept. Friendship peak (5200 m).
CHANDRA lake (4480 m) - Manali to Jagatsukh by bus (6 km). Trek to Chikka (3000 m, 9 km), to Chandra lake via Seri (3900 m, 14 km). Fine views of Deo Tibba (6001 m).
CHANDRATAL lake (4270 m) - 18 km trek from Batal, which is at the base of Kunzam la (4590 m) on the Kyelong - Kaja road.