World
>
India
>
Hill Stations
>
Himachal Pradesh
> Dharamshala
DARAMSHALA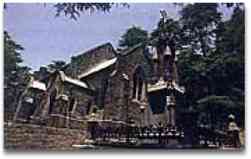 Pine forests cover the hillsides and numerous streams cut a path through them ,allowing for exciting opportunities for fishing. Dharamshala has the distinction of being the residence of the Dalai Lama who dwells at McLeod Ganj now popularly know as little 'Lhasa '.
What to See
Kangra : Kangra is a lush valley with rich harvests of grain and a plentiful produce of fruit that includes peach, pear plum and apricot. Famed for giving rise to Kangra school of paintings, Kangra valley has many temples and shrines, prominent among them are Jwalamukhi, Kangra and Baijnath temple.
Bhagsunath : Close to slate quarries is a fresh water spring and an old temple.
War Memorial : Upon entering Dharamshala, visitors come face to face with this beautifully designed monument, raised to the memory of those who laid down their lives for their motherland.
McLeod Ganj : This a settlement of Tibetan Buddhists who sought refuge here following their exile from Tibet .The Buddha temple is situated opposite the residence of the Dalai Lama. Here are images of Buddha, Padmasambhva and Avalokiteshwra. Just a Kilometre's walk further is the Tibetan Institute of Performing arts which organises a Folk opera in Dharamshala . McLeod Ganj has a Tibetan Handicrafts Centre, several antique and curio shops.
St. John's Church : Is a memorial dedicated to Lord Elgin. The Church has some Exquisite stained glass windows.
Chinmaya Tapovan : This is a recently developed ashram complex established by a great exponent of the Gita, Swami Chinmayananda.
Dal Lake : A picturesque picnic spot, connected by motorable roads. Dal lake also provides a good trekking base.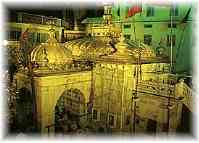 Jwalamukhi : A popular centre of pilgrimage for several centuries, the temple of Jwalamukhi is considered among the most sacred in northern India. Chintpurni, is another popular temple that has a large following. The goddess, Chintpurni, is represented by a stone idol.
Brajreshwari : Another famous Temple that is associated with Kangra.
Adventure Activities
Fishing and Water Sports :The 20 km stretch of river between Nadaun and Hamipur, and the Pong dam reservoir are ideal for Mahaseer fishing and water sports.
Trekking and Mountaineering : There is a branch of the Mountaineering Institute of Manali at Dharamsala from where one can hire equipment including tents.
Getting There
By air : Airport is at 11 km South of town at Gaggal. Flight from Delhi via Kullu and Shimla.
By train : The nearest station for Dharamshala is Pathankot from Delhi, Punjab and Jammu Tawai.
By bus : State run buses from Manali, Mandi, Pathankot, Kangra and Delhi.
Where to Stay
At McLeod Ganj known as Upper town and the real heart of Dharamshala .
Hotels
Green International, Him, Queen, Surya Resort,
Kalsang Guest House, Om, HPTDC Bhagsu, Tibetan Ashoka