BizHat.com
>
World
>
India
>
Hill Stations
>
Uttarakhand
> Dehradun
Dehradun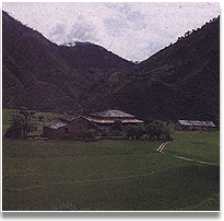 Also spelt Dehra Doon, this pleasant town is situated in a valley in the Siwaliks, the foothills of the Himalaya. The hill station Mussoorie can be seen, 28 km away, on the high mountain range above Dehra Dun.
Dehra Dun is at the centre of a forest area and the impressive Forest Research Institute is here. The climate is conducive to the growth of fruit trees and Dehradun is famous for its fruit orchards.There are also several prestigious boarding schools including the Doon School, India's most exclusive private school, which numbers Rajiv Gandhi among its ex-pupils.
Forest Research Institute established by the British in the early years of this century, the Institute is one of the finest of its kind in the world. Across the six galleries of its Museum are laid out some of the best collections of specimens of flora and fauna. Another place of interest worth a visit, Wadia Institute of Himalayan Geology a museum containing rock samples, semi-precious stones and fossils is the centre of attraction here.
Tapkeshwar Temple dedicated to Lord Shiva, the temple is beside a stream which is directed to flow onto the lingam. During Shivratri, a large fair is held here.Then there is Robber's cave popularly known as Guchhu Pani, it is situated 8 km from Dehradun. The last Kilometer has to be covered on foot. The cave is a picnic spot, surrounded by hills. Here, water vanishes underground only to reappear after a few yards in the form of a stream.Other places of interest include Masli Deer Park, Lachhiwala.
Excursions
Dhanolti (26 km), Surkhanda Devi (35 km), Chamba (57 km), New Tehri (70 km), Nagtibba (48 km).
Rishikesh
A celebrated spiritual centre, Rishikesh enjoys a calm environment, impressive water front and dense forest hills. Virtually a town of saints, sages and scholars, Rishikesh is a large religious centre situated at the right bank of river Ganga.
There are a number of Ashrams where religious discourses are held for the benefit of the visitors. The place is also a renowned centre for Yoga teachings.
River rafting is another attraction for Rishikesh.
A number of organizations have established their camps 15 km Upstream. Good hotels are available in addition to a tourist bungalow and many Dharamshalas.
DAK Pathar
Under the Yamuna Hydel Scheme, Dak Pathar has emerged as a tourist spot which boasts of lush green lawns and blooming gardens. It is 45 km situated on Dehradun - Chakrata road and is connected by regular bus service.
A tourist bungalow and few hotels are available
Kalsi
It is about 5 km from Dak Pathar on way to Chakrata, where there is an Ashoka edict inscribed on the sizeable rock. It is preserved by National Archaeological Department.
Chakrata
Situated at a distance of 92 km from Dehradu, at an elevation of about 700 feet. Chakrata is known for its serene environ and sylvan charm. The place is devoid of all artificiality and one can move in perfect calm & in pollution free atmosphere.
One can find accommodation in the forest rest house. There are few ordinary hotel also.
The northern part of Chakrata sub-division, Provides most fascinating area for trekkers and nature lovers. Covered by dense virgin forest dotted with attractive village of colourful Jaunsari tribe, the area is dominated by 10,000 feet high peak of Kharamba. On its northern slopes is situated Mundali (9,000), where skiing is possible during the period from November to April. Deoband (9,000) Kanasar (8500), Kathiyan (7000) (all connected by road), Molta (7000), Tiger Fall near Chakrata are some other spots worth visiting. The famous temple of Mahasu Deota at Hanol is annually visited by thousands of pilgrims from Garhwal and Himachal Pradesh.
Laxman Sidh
This picturesque place about 12 km from Dehradun on Hardwar road is frequented by a large number of people specially on Sundays. Legend has it that a saint underwent penance at this place. The place is connected by local bus service.
Lakhamandal
About 80 km from Mussoorie on Mussoorie - Yamnotri road Lakhamandal is believed to be the place where Duryodhana of Mahabharat episode conspired to burn alive the Pandavas in the Lakshyagriha a house specially constructed with shellac.
There is a temple believed to be constructed in the eighth century with a number of carved figures on stone which are of archaeological significance.
Taxis are available at Mussoorie for visiting the place.
There is however, no place to stay at present.
Accommodation
Hotel Shipra, Osho Resorts, Ajanta Continental, Hotel Meedo's Grand and Hotel Hilton.
How To Reach
Dehradun is an important railhead on Northern Railway and is connected to many parts of the country with express trains. Dehradun is well connected by roads. Easily reachable from Delhi, Haridwar, Rishikesh, Agra,Shimla, Yamnotri.