World
>
India
>
Hill Stations
>
Himachal Pradesh
> Dalhousie
DALHOUSIE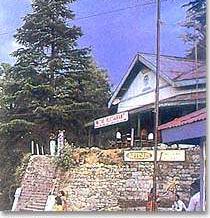 The lush cover of vegetation that adorns the town comprises of towering pines, deodars, oaks, and the beautiful rhododendron plants. Dalhousie also houses many fine specimens of colonial architecture especially, its old churches. The views that the resort has to offer are alone, worth a visit - to the north, one can gaze at the majestic mountains of the Dhauladhar range, that culminate in the Pir Panjal mountains of Kashmir, to the south, the plains of Punjab are discernible. Far below, the beautiful river Ravi can be sighted meandering its way through the plains.
What To See
Churches : The St. Andrew's Church, St. Patrick's Church at Balun, St. Francis' Church at Subhash Chowk, and St. John's Church at Gandhi Chowk, are some of the beautiful churches that Dalhousie houses.
Panchpula (3 km) : An idyllic area where a charming stream feeds several pools, Panchpula (Five bridges) is the site, where a monument dedicated to the great freedom fighter, Bhagat Singh's uncle, Sardar Ajit Singh, has been built.
Subhash Baoli : This captivating spot, surrounded by soaring trees, served as the great Subhash Chandra Bose's retreat.
Bara Pathar (4 km) : The prime appeal of this spot is a fascinating little temple set in the midst of a dense forest.
Kalatope (10 km) : A wildlife sanctuary, Kalatope, houses many species of animals, which include the ghoral, barking deer, and the Himalayan black bear, and a large avian fauna population. There is also a Forest Rest house, for those who wish to spend the night in the sanctuary.
Adventure
Numerous trek - routes emerge out of the Dalhousie - Khajjiar - Chamba triangle and there are some trek - routes within it too, like, Chamba to Bharmour, Chamba to Palampur (over the Dhauladhar ranges), Chamba to Pangi, and Bharmour to Keylong via Kugti Pass.
Getting there
By air : The nearest airport is at Gaggal in Kangra (135 km).
By rail : The nearest rail head is at Pathankot (80 km).
By road : Dalhousie is 485 km from Delhi by road, and 52 km from Chamba.
Accommodation
Himachal Tourism's Hotel Geetanjali is a fine economy hotel that offers a fantastic view of the area.
Address: Hotel Geetanjali, Dalhousie, Himachal Pradesh - 176304. Tel: (018982) 2155.