World
>
India
>
Museums
> Kolkatta Museums
Museums in Kolkatta
Indian Museum (*****)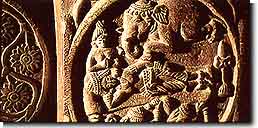 This museum was established in 1878. Built in Italian architectural style, it is considered the largest museum in the country and one of the best in Asia. The range of exhibits at the Indian museum are amazing : from the Egyptian mummy to the skeleton of the whale and some rare statutes. One of the rooms has a collection of meteorites. The museum also has a unique collection of fossils of prehistoric animals which includes a giant crocodile and a huge tortoise. The art collection has many fine pieces from Oriya and other temples and superb examples of Buddhist Gandharan art.
This museum has a wide range of items on display from Tibetan and temple banners, metal images, ornaments, silver wares, glass wares, pottery, ivory and bone work to wooden sculpture. Besides cultural artifacts, the museum also hosts eighty thousand specimens of meteorites, precious stones, rocks and minerals and fossils.
Address: J.L. Nehru Road, Kolkata - 700 016. Tel: 2495699, Timings: 10 a.m to 5 p.m. Closed on Mondays and public holidays. Entry fees: Indian - Rs 10, foreigner – Rs 150.
ASHUTOSH MUSEUM OF INDIAN ART
Basalt sculptures from Pala and Sena periods are on display here. These sculptures have a distinctive blend of Hindu and Buddhist styles, Address: Centenary Building, Kolkata University College Street, Kolkata – 700 073. Timings: 10.30 a.m to 5.00 p.m. Closed on weekends and public holidays.
VICTORIA MEMORIAL MUSEUM (***)
This museum houses collections from the British colonial period, including a life-size statue of young Queen Victoria.
Address: Cathedral Road, Kolkata – 700 071. Tel: 223-1890. Timings: 10 a.m to 5 p.m. Closed on Monday and public holidays. Entry fee: Indian – Rs.10, foreigner – Rs 150.
BANGIYA SAHITA PARISHAD CHITRASALA
The museum exhibits valuable medieval stone and metal sculptures, manuscripts, letters of famous Bengali authors and archaeological objects depicting the history and culture of Bengal.
BIRLA ACADEMY OF ART AND CULTURE MUSEUM
Paintings of the medieval period as well as modern art are on display, Regular exhibitions of modern Indian sculptors and painters are also held.
Address: 108-109 Southern Avenue, Kolkata – 700 029. Timings: 4.30 p.m to 7.00 p.m. Closed on Mondays and public holidays.
CRAFTS MUSEUM
Rural arts and craft of different regions of India including ivories, metal objects and textiles are on display.
ETHNOGRAPHIC MUSEUM
Hunting tools, fishing gear, dresses and ornaments, furniture, spinning and weaving aids as well as objects relating to art, religion and 'magic' are prominent features of the museum.
NEHRU CHILDREN'S MUSEUM
The museum has on display puppets depicting the Ramayana and the Mahabharata, dolls wearing national costumes from different countries, miniature working models of railway crossings and an elementary science gallery.
Address: 94/I J.L. Nehru, Kolkata – 700 020. Tel: 2233517, Fax: 4403890, Timings: Wednesday to Sunday 11 a.m to 7 p.m., Tuesday 2 p.m to 7 p.m. Closed on Mondays. Entry fee: Children – Rs 2, Adult – Rs 5.
RABINDRA BHARATI MUSEUM
This museum is the ancestral home of the famous writer and poet Rabindranath Tagore, the only Indian to win the Nobel Prize for Literature.
Address: 6/4 D.N, Tagore Lane, Kolkata – 700 007. Tel: 2395241/42. Timings: 10.30 a.m to 4.30 p.m. Closed on Sundays and Mondays, Entry: Indian – Rs 10, Foreigner – Rs 50.
BIRLA INDUSTRIAL AND TECHNOLOGICAL MUSEUM
This is India's first public science museum. It has a display of scientific models, hands-on interactive exhibits on scientific phenomenon and models of various industries.
Address: 19A Curusaday Road, Kolkata – 700 019. Tel: 247-7241. Timings: 10 a.m to 5.30 p.m. Closed on Mondays and public holidays. Entry fee: Rs 10.
ASIATIC SOCIETY MUSEUM
The Museum hosts rare, valuable and illustrated manuscripts from all over India and South-East Asia. The exhibits include the Bhabru Rock Edict of Ashoka, copper plates belonging to 11th and 12th century A.D., and a collection of rare books.
Address: 1 Park Street, Kolkata- 700 016. Tel: 2290779?725. fax: 22603355. Timings: 10 a.m to 6 pm. Closed on weekends and public holidays. Entry: Free.
KOLKATA PANORAMA AT TOWN HALL
The Town Hall, one of the most celebrated architectural edifices of Kolkata now boasts of India's first hi-tech museum. Called the Kolkata Panorama, the state-of-the-art museum portrays and depicts stories of the Kolkata city from its inception through the Bengal Renaissance and the freedom struggle to the present day.
Address: Town hall Kolkata. Tel: 2483085/2486165. Timings: 11.00 a.m. to 6.00 p.m. Closed on Mondays and public holidays. Entry fee: Indians – Rs.10 on weekdays, Rs.15 on Saturday Sundays and holidays, foreigners – Rs.100.