India
>
Temples
> CHAMUNDA DEVI TEMPLE
CHAMUNDA DEVI TEMPLE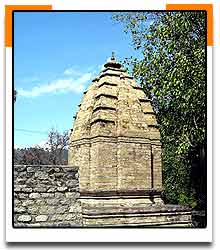 Chamunda Devi is a Shakti shrine, situated 10 km west of Palampur, on the Baner River. This colorful shrine has a wrathful form of Durga or Chamunda. The idol in the temple is considered so sacred that it is completely hidden beneath a red cloth. Here Lord Shiva is present in the form of death, destruction & dead bodies along with Devi Chamunda. In the temple the devotees can see scenes from the Devi Mahatmya, Ramayana and Mahabharata. On either side of the Devi's image is Hanuman and Bhairo.
Devotees offer prayers, worship and give offerings for their ancestors. It is thought to be sacred to take a dip in Ban Ganga and to read and recite the writings of Shat Chandi. In the old days, people used to offer sacrifices also to the deity. The Goddess Chamunda was enshrined as chief Goddess with the title of Rudra in the battle between demon Jalandhra and Lord Shiva which made this place famous as "Rudra Chamunda".
The Legend Associated To The Temple
As with so many temples in India, this one too has a legend to it. It has to do with the two demons, Chanda and Munda, trying to harass the goddess Ambika. The duo, followers of the notorious demon king, Shumbh Nishumbh, once set out for the Himalayas with their chaturangini army. Upon reaching here, they saw the devi (goddess) sitting high up on a peak, smiling to herself. Chanda and Munda then flew their arrows at her.
Furious at this, Ambika knitted her brows and lo! From their folds emerged this terrifying form of Kali, decked up in a cheetah skin sari (long piece of cloth cleverly draped by Indian women) and a garland of skulls. Kali fought all the demons singlehandedly and killed Chanda and Munda. Pleased, Ambika declared that Kali would now be worshipped here as Chamunda – a compound of Chanda and Munda. That is how the temple is supposed to have come up.
The Chamunda Devi temple is said to be more than 700 years old. It is a pretty big complex with even a kund (tank) where devotees take a dip. The idol in the main temple is considered so sacred that even the eyes of devotees are not allowed to touch upon it; it is kept completely concealed beneath a red cloth. At the back of the temple is a cave-like scoop where a stone lingam (phallic symbol of Shiva) under a boulder represents Nandi Keshwar (Shiva). There are several brightly painted figures of gods and goddesses around the place.
How To Reach
Temple of Chamunda devi is situated on the right bank of river "Baner" in district Kangra of Himachal Pradesh in India. The famous Temple is connected with Dharamshala - Palampur National Highway.
Nearest Airport is Gaggal which is connected with New Delhi and Chandigarh by Indian Airline Flights. The Distance of Shrine from Delhi is 525 km.
Nearest railway station is Pathankot for broad gauge trains and there is also a narrow gauge train in Kangra district for which the railway station is Nagrota Bagwan.
Motorable roads connect this Shrine from Palampur & Dharamshala. Taxis can be hired from these places. Distance from Dharamshala to Shrine is 14 km & from Palampur 18 km. This all is hilly and beautiful scenic area all along the valley. Frequent state transport bus service is available from all important cities of Punjab, Haryana, New Delhi, Chandigarh and J & K.