World
>
India
>
Museums
> Museums Of Bikaner
Museums Of Bikaner
Fort Museum, Bikaner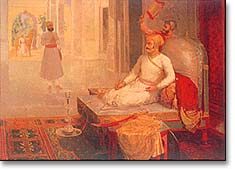 Ganga Mahal, the imposing halls added by Maharaja Ganga Singh, now houses the Fort Museum. It contains a fine collection of antique Rajput weaponry, jade handle daggers, camel hide dhals (shields) and inlaid handguns and camel guns. Gold and silver howdahs, jhulas, palkis and a first world war biplane are on view. Other important objects include a pair of drums belonging to Jambhoji, the saint who predicated the foundation of the dynasty by Rao Bika for 450 years. Photographs and items of personal use by Maharaja Ganga Singh and miniatures are also on view.
Timing : 10 am-4.30 pm. Closed on Fridays & gazetted holidays. Entry : Rs.3, Rs.10 (foreigners).
Ganga Golden Jubilee, Bikaner (***)
Established near the Lallgarh Palace in 1937 on the eve of the Golden jubilee celebrations of Maharaja Ganga Singh. This Museum now run by the Government of Rajasthan, was shifted to a new building in the Civil lines in 1954. Some principal sections of the museum are : Maharaja Ganga Singh Memorial, Local Arts and Crafts, History, Sculpture, Teffacotta and Bronzes, Armory, Miniature Paintings and Folk Arts, Dr. L.P. Tessitori Memorial Section, Lithoprints of the British interpretation of the war of Independence 1857.
Furgal (Silk robe) of Prince Salim 1596 A.D. The furgal was presented by Crown Prince Salim (Emperor Jehangir) to Raja Rai Singh of Bikaner, one of his closest Officials.
Historical Mughal Farmans
The History of Bikaner contains a colorful record of war adventures. More than half a dozen rulers lost their lives while participating in the Imperial campaigns of the Mughals. Various Farmans bearing original Imperial seals, issued by the Emperors - Jahangir, Shah Jahan, Aurangzeb and Shah Alam, are preserved in this museum.
Paintings
An exquisite collection of Rajasthani miniatures of almost all the sub-schools of Rajasthan such as Bikaner, Bundi, Mewar, Jaipur, Jodhpur etc. are on view here.
Terracotta
The museum has one of the finest collections of early terracotta art, in the finest collections of early terracotta art, in the country. These belong to the early Gupta period and were discovered in 1017 by Dr.L.P. Tessitori from the ancient Theris of Rang Mahal, Badopal, Pir Sultan-Ki-Theri located between Suratgarh and Hanumangarh of the of the old Bikaner state. The existence of these Theris can be traced back to the Indus Civilization. Some of these sites including Kalibangan are considered the oldest in India. It was in this area that the sacred river Saraswati is believed to have existed.
Sculptures
The sculpture of Jain Saraswati (11th-12th Century) height. Discovered is a unique piece of marble of four feet eight inches in height. Discovered from the village Pallu (Ganganagar) it is a peerless example of medieval Indian sculpture. Nartaki (10th-11th Century) is a beautiful one foot high bronze image, discovered from large sand-dune of village Amarsar in Tehsil Sujangarh (Churu.)
Lacquer Work
The museum has a fine collection of superb lacquered works a craft special to Bikaner entirely done by the artisans, called Ustas (Ustaads), on wood, metal, glass, stone, leather and ostrich egg shells.
Wood and Stone Carvings
Bikaner stands almost unsurpassed in wood and stone carvings. A teak wood table and a wooden casket, a model of the Gajner Palace (Bikaner), a typical ikka (horse drawn cart) and Chariot with minutest details are on view in the museum.
Timings : 10.00 am-5.00 pm, Friday closed. Entry: Rs.3 (Indians)& Rs.10 (foreigners).