India
>
Hill Stations
> Bihar
BIHAR
Netarhat Hills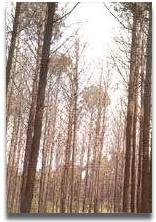 156 km from Ranchi is 'Netarhat, the queen of Chotanagpur. It is situated at a height of 3,700 ft. above sea level and is a hill station of Bihar. Netarhat is a beautiful resort during summer. Dense forests, serpentine roads, cool bracing breeze, moonlit nights must have persuaded the English to call this place which possibly sums up 'nature' and heart of Netarhat. This place is an out of this world experience.
SUNRISE AND SUNSET VIEWS
The sunrise and sunset views are very fascinating here. The tourist bungalows here (Hotel Prabhat Vihar of BSTDC and Palamu Bungalow) are an ideal place for viewing sunrise which is equally picturesque. 10 km 'Magnolia point' famous for its stunning sunset view.
PLACES OF INTEREST
Upper Ghagri Waterfalls

Upper Ghagri Waterfalls 6 km - Popular picnic spot. Lower Ghagri Waterfalls : 10 km - Beautiful scenery popular picnic spot. Koel view point : 3 km - Site for viewing Keel river.
View Tower : Situated near Forest Bungalow from where scenic beauty of Netarhat can be seen.
Public School : A premier residential school of Bihar.
EXCURSIONS
Lodh Falls :It is one of the biggest waterfalls of Bihar where water falls from a height of 468 ft. 61 km from Netarhat.
Sadni Falls : 35 km - It is a snake type waterfall and is very popular picnic spot.
Betla National Park : 215 km via Kuru and 104 km via Banari. It is a very rich National Park with tigers, panthers, elephants etc.