World
>
India
>
Museums
> Museums Of Ahmedabad
Museums Of Ahmedabad
The Calico Museum Of Textiles, Ahmedabad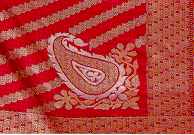 This is one of India's finest specialised museums. It presents a tasteful display of Indian textiles, in well-kept galleries. It was founded in 1949 and is the brainchild of Ms Gira Sarabhai who initiated the collection of rare, exquisite fabrics from different parts of India. Through their traditional excellence and popularity, such pioneers were instrumental in reviving interest in India's rich textile heritage and showing the need to preserve and extend it. Today, thanks to the efforts of both government and private enterprise, the Indian textile industry, especially its handlooms section is second to none in the world.
The state of Gujarat famed for its superior cotton, with Ahmedabad as the old capital, has always been a major area for textile production. It is therefore quite fitting that this museum should have been set up here, giving artists, craftsperson, weavers, scholars and casual visitors the opportunity to study and enjoy the beauty of Indian textiles of different periods and from different places.
Archaeological evidence and literature both indicate that textile production is an ancient Indian art, dating from even earlier than the Indus Valley Civilisation, 5,000 years ago. From paintings at Ajanta and Ellora, from miniatures and manuscripts, we get some idea of how fabrics were worn, their colours and combinations. Reference in literature speak of muslims and cottons so fine that they were compared to the evening dew, so cool and translucent in the case of the sherbati fabrics that they were described as 'air woven'. The aesthetics of textile design followed certain principles. There were special associated with festivals and seasons; mustards-flower yellow for spring, and deep brick red and crimson for auspicious occasions. Textiles, like Indian poetry, painting and sculpture, reflected an innate love of nature. Motifs on textiles derived their names from flowers, birds and animals : the peacock's eye, the jasmine bud, fish, running water and other abstract designs are to be found on woven, painted, printed and embroidered Indian fabrics.
The museum in its present, new setting creates a charming atmosphere, with courtyards, gardens, fountains, quiet passages and evocative settings created with the textiles themselves to show how they were used: religious textiles, cloth is used in royal court etc. This introduction is very well presented and offers an insight into the genius of Indian weavers and the skills and traditions associated with the ancient art.
Textiles can be broadly divided into those fabricated from cotton, wool and silk. Of these, cotton and wool appear to have been used throughout Indian history, beginning from the time of the Harappan Civilization. Indigenous silk was produced by the tribes of the north-eastern states like Assam, and of the Bihar and Orissa regions. These tusser and muga silks are still available in natural hues of gold, and each with their own distinct textures.
There is a legend that a Buddhist monk brought a mulberry tree to India from China, where silk production was a closely guarded secret. There are numerous references in literature to silk garments throughout the medieval period. On a more significant scale, silk was introduced into south India during the reign of Tipu Sultan of Mysore, in the 17th century, through his 'French connection'.
Any material, including textiles, cam be studied according to the techniques involved in their production. For fabrics, the first stage is the preparation of the yarn for weaving : the twirling and twisting (spinning), which provides the initial element of texture to the cloth. Handspun yarn, like that used an khadi (handspun and handwoven cloth), lends a delightful uneven texture to the cloth. The colours and dyeing techniques for yarn used are equally important. The best example of these is ikat, in which the yarn is tied and dyed in two, three or four colours, so that when it is woven the designs 'assemble themselves' on the fabrics. The museum has some outstanding samples of ikat from Gujarat, referred to there as Patola, in which both the wrap and weft threads carry 'colour coding', to create intricate, slightly fuzzy-edged motifs of elephants, flowers and birds. This artistic techniques is still practised today in Orissa, Andhra Pradesh and Gujarat.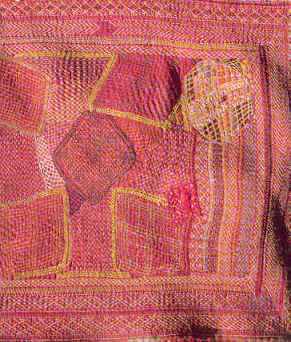 The next step is the weaving, in the course of which wrap and weft interact to create sensitive combinations of colours, and an unbelievable variety of textiles. In this range we have elaborate brocades in which gold or silver and coloured thread are woven into the fabric to create special motifs and designs.
To set a loom for weaving requires an in-built sense of harmony, mathematics and an uncanny sense of the forms to be created on a two-dimensional surface. Balushar saris, brocades, the textiles from Paithan in Maharashtra and Kanchipuram silks are some of the samples displayed here. The artist not only had to consider technique and colour scheming, but also the functional value of the cloth, and how it would look when draped and worn.
Weaving in silk, cotton, wool and sometimes a mixture of materials was mastered using simple horizontal and vertical looms. In the north-eastern states, the hip loom, or loin loom, is still common. Use was also made of the Jacquard loom and individual bobbins to introduce colours like gold in just the motifs of the fabric.
After weaving, the numerous way in which fabrics can be decorated-painting, tie-dye, embriodery, applique-are presented.
The museum has some exquisite samples of printed fabrics, especially those from Gujarat and Rajasthan, Wood blocks carved only one colour. Extraordinary skill was involved in the creation of one tiny motif, using as many as three or four different colours.
Painting on cloth, called Kalamkari ('pen work'), was another popular art and there are example of temple hangings, and canopies from Gujarat and south India. A sizeable market was established in Europe in the eighth and 19th centuries for printed fabrics from India, for which the European trader introduced Western designs that the Indian artist was able to transfer on to the cloth, for hangings, furnishings, tableware and garments.
Painted, printed and embroidered hangings were used to curtain off portions of the temple such as the main sanctum, and from Rajasthan, especially Nathdwara, come huge Picchwais (woven curtains or 'that which hides the deity') with graceful figures in gold and silver against a midnight-blue background, fragrant with flowers falling from the heavens, and the blossoms of trees.
Embroideries range from cotton on cotton cloth, silk, wool, gold and silver thread and sequins, mirrors and beads. the embellishment of fabrics with a variety of embroidery stitches was popular in all regions of India, from the tribal shawls, to those of Kashmir, the blouses and skirts of Rajasthan and Gujarat, and royal attire of the medieval emperors. The museum has some excellent examples of phulkari (flower work), including the embroidered odhanis made by young brides of the Punjab to cover their heads. A phulkari has a vertiable 'garden' of abstract, interlocking designs, in brilliant hues of golden yellow, red and brown, on a rich, brickred base cloth. From Himachal Pradesh, the exquisite rumal, or cloth used to wrap gifts and offerings, which are so finely embroidered that one cannot tell the right side from the wrong. Episodes from the epics and myths have been painstaking transferred onto the cloth and stand out like shadows in a fine mist.
Amongst the woolen fabrics, the most highly prized wools are pashmina and shahtush, which, though very light and fine when woven, are extremely warm. The Indian shawl, of great variety in weave and design, was one item of male and female costume that captured the imagination of the artist. The shawl is worn loosely over the body, swung around one or both shoulders; it frames the body and head, and can be worn in many ways. The most complex woven shawl is the jamavar (jama = robe; yar = yardage). To prepare this shawl a process not unlike that used in making tapestry is used, with hundreds of tiny the weft threads of the fabric. Though all Indian textiles use an amazing range and combination of colours, it is in these shawls that a new dimension is added to the art of colour combination. It is said that some 300 tints of vegetable dyes were once used in shawl weaving.
The textile museum has been rearranged, and work is in progress to display the textiles according to their usage. There are so many other extraordinary items in this museum that it is impossible to mention them all here. However, the history of textiles-traced through the representations in ancient paintings, like those from Ajanta and the Lepakshi temple, and through sculptures down the ages - testifies to a long-standing, innate love of textiles in India. Each region and state developed its own technique. Skill and style, for which it is famous to this day. At present the battle against synthetic fibers and machine made products continues, and it it museums like this that capture the essence of a very great artistic tradition of hand-made textile production in this country.
The Calico Museum Of Textiles, Shanti Bagh Area, Ahmedabad, Gujrat.
Hours : 10 am-12.30 pm and 2.30 pm-5.30 pm except on Wednesdays and Government Holidays.
Suggested Viewing time: Two hours.
UTENSIL MUSEUM, AHMEDABAD
Features a magnificent collection of Indian utensils. There are more than ten thousand exhibits displaying a vast range of techniques and tools used to make and decorate these household items.
ARCHAEOLOGICAL MUSUEM, LOTHAL
The museum contains items from the excavates site of what was probably a port town of the Harappan civilization (87 km from Ahmedabad).